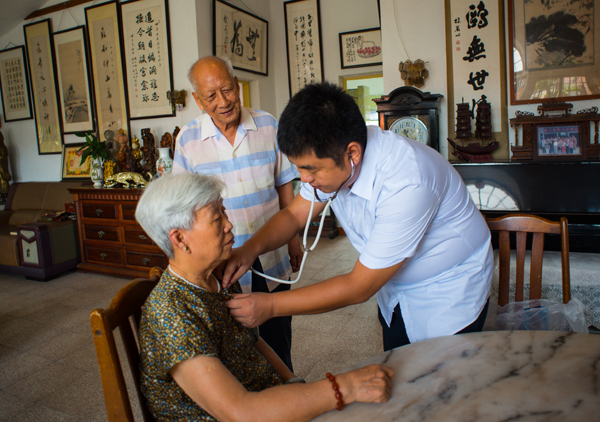 A hospital doctor provides hospital-to-home service for community residents in Xiamen, Fujian province. PAN SONGGANG/FOR CHINA DAILY
It used to be a big headache for Xu Li when her children got sick. She would search the internet for solutions and call friends for suggestions, but usually ended up rushing to a hospital where she sometimes had to queue for hours before seeing a doctor.
"I remember thinking, if only I had a doctor right downstairs," said the 36-year-old mother who lives in the Shangqingsi community in southwest China's Chongqing municipality. Now things have changed.
Xu signed a contract with a team of family doctors with the community health center late in 2014. Since then, she has enjoyed a set of personal medical services round the clock, including the use of a family doctor.
Now, using the imaginative application of the online-to-offline or O2O concept, she immediately calls the contracted doctor if any of her family feels unwell, and the doctor visits her at home and gives medical instructions.
"It gives me a sense of safety," she said.
Chongqing began piloting the family doctor program in 2012, under which community doctors sign contracts with residents and provide them customized medical services, including health management, disease prevention and regular physical examinations at home.
A family doctor team is generally composed of at least one general practitioner, a nurse, and a public health physician. In some places, there is also a pharmacist.
They can handle most minor illnesses, while they will register and transfer patients with complications to major hospitals through an internal fast-track system.
The program means every family has a doctor that they can consult first, rather than the internet, said Fang Laiying, director of the Beijing municipal health and family planning commission. Once a preserve of the rich, family doctor services are now becoming available to ordinary Chinese citizens.
Alongside Kunming, 200 Chinese cities will introduce such services this year. By 2020, China is planning to extend family doctor services to the entire population.
In Shanghai, 10.27 million citizens, nearly half of its population, have joined the program, which is mostly paid for by the government.
"It's not such a high-end medical service as private doctors. Residents covered by medical insurance only need to pay about 10 yuan for a single home service," said Liu Wei, who signed contracts with dozens of households at Gumei community, Shanghai. The money does not include the cost of medicines.
In Chongqing, a home visit from a general practitioner costs about 15 yuan, while other services, such as consultations and basic physical examinations from public health physicians, are free of charge
Liu Wei can visit over 20 families a day. He has also created a WeChat group for all his customers to keep close contact with them.
"I regularly visit my contracted families, examining and documenting their health conditions. I know what they need," he said.
The family doctors have saved residents' time and money as well as reduced the heavy burdens of hospitals, said Meng Shan, head nurse at the Chongqing-based Southwest Hospital.
Liang Hong, dean of the School of Social Development and Public Policy, Fudan University, said that the program is key to establishing a tiered disease treatment system, which means different medical institutions receive different patients according to the severity of their illnesses.
The tiered treatment is seen as a solution in helping people see a doctor in good time, as often patients have to wait for hours, even days, to get medical treatment at hospitals.
The program will make use of community-level medical resources and ensure the long-term health care of citizens, Liang of Fudan University said.
In 2015, community health centers in Shanghai received 84.5 million visits, one-third of that in the city's hospitals, according to government statistics. In Beijing, the figure was 48.9 million last year, or 21 percent of total visits to all medical institutions.
"On one hand, family doctors should enhance their professional skills and provide better services to win trust; on the other, we hope people can give us more support and be confident in us," said Zhu Lan, a Shanghai family doctor who received the nation's top award for doctors in 2014.
Xinhua