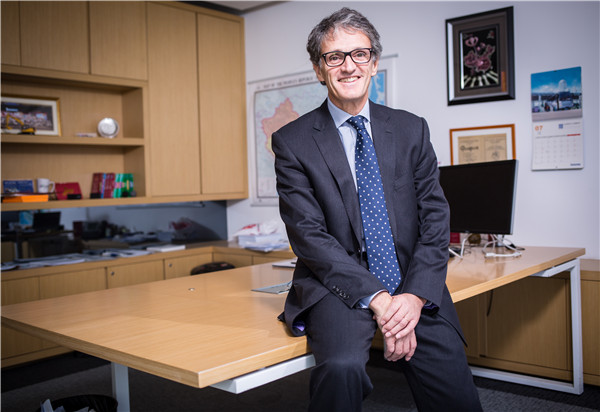 Bruno de Feraudy, president at Michelin China. [Photo/China Daily]
Chief says China unit eyeing fast growth through e-commerce, apps and online platforms
Surrounded by Bibendumimages and Michelin Guide, Bruno de Feraudy, president at Michelin China stands in his sunny office with warm smile on face. The towering office building at Changning district, one of the major traffic hubs in Shanghai, overlooks streams of automobiles.
"At Michelin, we do not regard our business as tire makers. Instead, what we do is to facilitate better, safer, and more enjoyable mobility," says De Feraudy.
Being a senior executive of Michelin China since 2012, De Feraudy has insights into the world's second largest economy where the automobile industry has seen high growth as well as tumult in recent years.
He thinks tapping into demand for mobility services through mobile communication tools could solve a lot of problems.
Between 2013 and 2015, the compound annual growth rate of the automobile servicing market, which includes change of tires, reached 19 percent as the number of vehicles in China rose, according to the China Association of Automobile Manufacturers.
Its report said the current size of the after-sales automobile servicing market in China has reached some 700 billion yuan ($109.4 billion), and is expected to grow to 1 trillion yuan by 2018.
Among the some 150 million car owners, more than 50 percent are under age 35, and more than 30 percent are under age 30. "To win in a tough market with knowledgeable customers, you really need to keep updated and flexible with consumers' demands and concerns," he says.
De Feraudy says Michelin China is eyeing fast growth through e-commerce and has been making efforts to harness mobile phone apps and online platforms.
A key area for it is the online-to-offline or O2O management, and De Feraudy believes that China's Internet-plus strategy will help Michelin China to expand its business in the country.
Michelin China launched its WeChat services in 2015, with its emoticons getting popular immediately after the launch.
De Feraudy says mobile communications and mobility business share many things in common, and to combine the benefits of the two sectors will greatly improve efficiency.
De Feraudy frequently uses mobile communication tools developed in China to connect with his friends and families. "My children have become ambassadors of WeChat and their friends in France are using the app too."
In 2015, Michelin China upgraded its website to include search, sharing and user reviews of its products and services. Users can locate the nearest distributor and service center.
This year, Michelin China will expand and upgrade its TyrePlus networks in China, and try to reach more consumers through the one-stop shop network offering tires and car maintenance services, including Michelin products, BF Goodrich tyres, lubricants, batteries, suspension, brakes and air conditioning systems.
Michelin started TyrePlus in China in 2002, and has serviced 6.68 million consumers since then. By 2020, the network is expected to expand to exceed 2,000 outlets in all the major cities and municipalities, serving 20.68 million drivers.
Consumers are expected to give a lot of feedback through online platforms and brick-and-mortar networks about their experience while using its products and services. The feedback will be taken into consideration when the company develops new products. The idea is to meet specific demands of users in China, said De Feraudy.
In his spare time, De Feraudy often drives to explore various locations, including some hidden gems in suburban, rural and remote areas across China.
De Feraudy says changing automobile varieties, improved road conditions, focus on energy efficiency and reduction in emissions, evolving consumption and payment habits, are all making Michelin China to stay well-informed on consumer needs.
"Some drivers focus more on the quietness, some value riding comfort, and some want durability and the ability to control the vehicle well while in motion. We need to make sure that performance of our products and services are all of high quality and safe to meet users' demands," says De Feraudy.
Globally, Michelin publishes content like travel guides on sightseeing, restaurants, hotels and roads. The Michelin Guide on hotels and restaurants classifies destinations according to comfort and gives star ratings for good food, ranging from "worth a stop!" to "worth a special journey!"
For long, China's drivers have been anticipating a special China edition of the Michelin Guide to explore more views and savor a variety of food across the vast Chinese mainland.
The travel guides fit with Michelin's philosophy that it is in the business of making mobility enjoyable. By adding value to journeys, the Michelin Guide supplements the company's main product (tires).
"We have been considering launch of the Michelin Guide for the Chinese mainland, and have been working on it," says De Feraudy.
BIO
Name: Bruno de Feraudy
Job-title: Michelin China President
Nationality: French
Marital status: Married with two sons and two daughters
Career
1987 to 2001: Sales and marketing manager for Passenger Car and Light Truck Division Business Unit Manager for truck tires in Asia and Australia
2001 to 2012: CEO of a service provider for Insurance Business in France
2012: Senior vice-president of Michelin China
2015: President, Michelin China
Education
1982: Bachelor of Arts (economics) at Orléans, France
1985: Master II in management at Rouen Business School, France
wuyiyao@chinadaily.com.cn