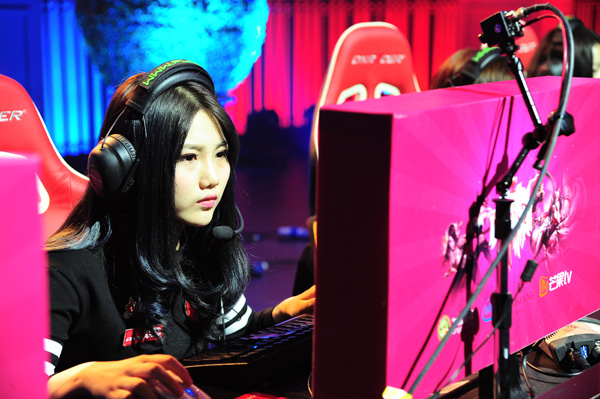 A young female player competes in a recent e-sports event in Taicang, Jiangsu province. E-sports are set for much bigger growth in China. JI HAIXIN/CHINA DAILY
'Nascent' e-sports are already a rage as contests produce millionaire world champs, but experts strike a note of caution
Years ago, at schools in China, teenaged video game players were seen as a bad influence on others. Both parents and teachers believed the games were addictive and dangerous that could potentially imperil the future of the next generation.
Li Peng's parents were part of such 'believers'. But, the other day, they became converts to the growing 'religion' of video-gaming, and stayed up all night to watch and cheer their 20-year-old son as he emerged into a world gaming champion-and a millionaire overnight.
Li triumphed at the world's most rewarding e-sports tournament (total prize money: a whopping $20 million-plus).
Li's five-member team named Wings Gaming secured a record-breaking $9.12-million prize after winning the final of the 2016 International DOTA 2 Championships, held in Seattle, Washington, in mid-August.
DOTA 2, short for Defence of the Ancients 2, is a game in which two five-member teams battle to conquer each other's base.
"I've been playing online games since junior high school. But becoming the champion is still beyond my imagination. After all, the five of us formed a professional e-sports team less than two years ago," said Li of the Chongqing-based Wings Gaming.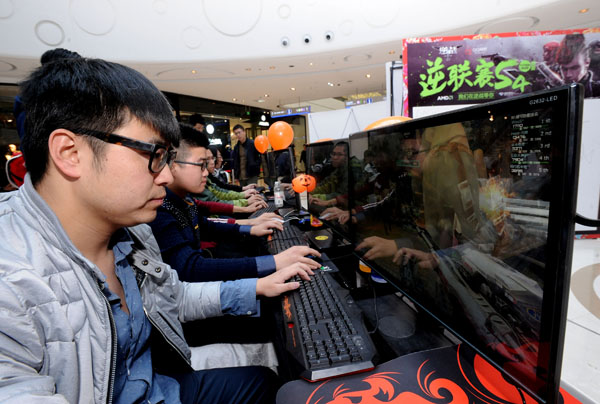 Contestants at an e-sport event in Shenyang, Northeast China's Liaoning province, Nov 1, 2015. [Photo/VCG]
Apart from becoming millionaires overnight, the team, whose average age is less than 20, received people's adulation fit for Olympic champions. Thousands of fans waved Chinese national flags at the venue, lustily cheered them to keep up their morale during the contest and followed it all up with a resounding standing ovation to salute and celebrate their victory.
The glory on the world stage marks the coming of age of competitive or professional e-sports in China.
The gaming boom has been fuelled by the rapidly increasing prize money at local tournaments, backed by heavy investments by software developers and gaming publishers. On top of that was the support of the Chinese government. Not surprisingly, e-sports have seen strong growth momentum over the past several years, said industry insiders.
Kenneth Chang, deputy secretary of the organizing committee of the China Universities E-sports League, said, "The increasing prize money at e-sports events has attracted many players, even middle school students, some of whom are seriously considering professional gaming as a career option."
According to a report from sohu.com, a major online news portal, total prize money at e-sports competitions worldwide reached $9.91 million in 2011. By 2015-end, it ballooned to $64.54 million, or up 551 percent over a four-year period, or around 138 percent year-on-year.
Chinese e-sports players have been quick off the blocks in the race for all that prize money. As many as 117 professional gamers won about 7 percent of the total prize pool in 2011. In 2015, the corresponding figures were 393 Chinese professional players and 22 percent, the highest in the world, country-wise.
Clearly, handsome rewards are attracting more players. But, there's something more happening here. Even the number of spectators and viewers has been rising steadily. Folks in millions, it seems, simply love to watch Chinese champs in e-sports action-a fact that brings joy to broadcasters, live streaming apps and advertisers alike.
Fittingly perhaps, China's General Administration of Sport had recognized e-sports as the 99th sports discipline in 2003. It even set up a national e-sports team in 2013, in tune with the fact that the country's e-sports universe hit 127 million participants in 2015, the world's largest. Together, they created a market whose 2015 revenue reached 27 billion yuan ($4.07 billion).
That's not to suggest the market has peaked. Far from it.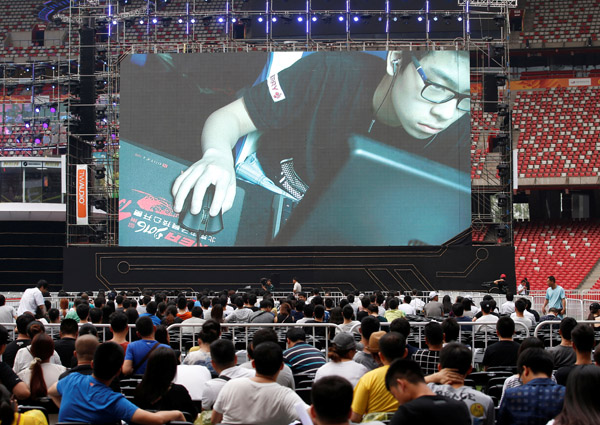 Audience watch large screens broadcasting the National Electronic Arena (NEA) Electronic Sports finals at the National Stadium, also known as the Bird's Nest, in Beijing, China, July 3, 2016. [Photo/Agencies]
Zhang Yunfan, president of Perfect World Games, an online gaming company in Beijing that operates DOTA 2 in China, said e-sports in China are still nascent. "Just like basketball or football, the success of e-sports lies in the huge number of participants."
Given the large player base in China, e-sports are set for much bigger growth, he said.
Again, like in many other sports, e-sports require talent and dedication. "It isn't like traditional sports, but gaming, too, requires players to produce swift muscle response. A good player may need to click the mouse more than 1,000 times a minute. They need to train seven to eight hours a day," said Shen Rongjie, a professional e-sports player in Shanghai.
Comparisons with other sports and sportspeople do not end there. "Very few players win big money from e-sports. A golden career of an e-sports player could last less than 10 years. After the age of 25, many of the gamers tend to lose their touch because they can't respond that fast anymore," Shen said.
That's not all. Most of the professional players are those who had dropped out of school early. After their gaming career, they are likely to face challenges in finding suitable alternative careers and jobs.
According to him, most of the 100-odd professional e-sports clubs in China lack a sustainable business model. "Well-known clubs can make money from advertisers and commissions if their famous players win big games.
"Other clubs depend on the financial support of silver-spoon kids of China's rich entrepreneurs," he said.