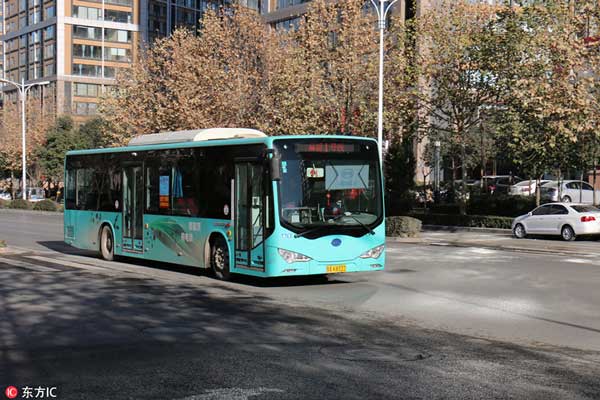 A BYD K9 electric bus travels on a road in Xi´an city, Northwest China´s Shaanxi province, Dec 21 2014.[Photo/IC]
A six-month trial of electric bus K9 begins; success could mean opportunities in the region
China's major electric vehicle or EV producer BYD Co Ltd is targeting Singapore to sell buses and taxis. It is relying on its time-tested overseas expansion strategy for the foray.
Promotion of electric vehicles for local public transport systems, and then localization involving establishment of research and development centers or assembly lines-they constitute BYD's strategy to enter a foreign market.
The carmaker announced on Aug 8 that it would conduct trials of its pure electric bus K9 in Singapore from this month. The six-month trials will see the K9 being introduced into Go Ahead SG's bus services operating from Loyang Depot.
The trials will look into the challenges of whether an electric bus can meet the full-day operational demands of a conventional public bus, without compromising on reliability and serviceability, in a local environment.
It is also part of Singapore's EV Phase 2 Test, a trial program of the Land Transport Authority and the Economic Development Board to research and develop EVs.
The program is aimed at exploring fleet-based operations such as electric car-sharing, electric buses and electric taxi fleets, and assessing whether they are viable for Singapore's land transport network.
"BYD is committed to providing green and sustainable comprehensive ground transportation including e-buses, e-taxis, e-vans, as well as e-trucks," said Liu Xueliang, BYD's general manager for the Asia-Pacific region.
Currently, Singapore uses buses with internal combustion engines fueled by diesel. There are about 18,000 public and private buses in service in Singapore, accounting for about 2 percent of the total vehicles on the country's road.