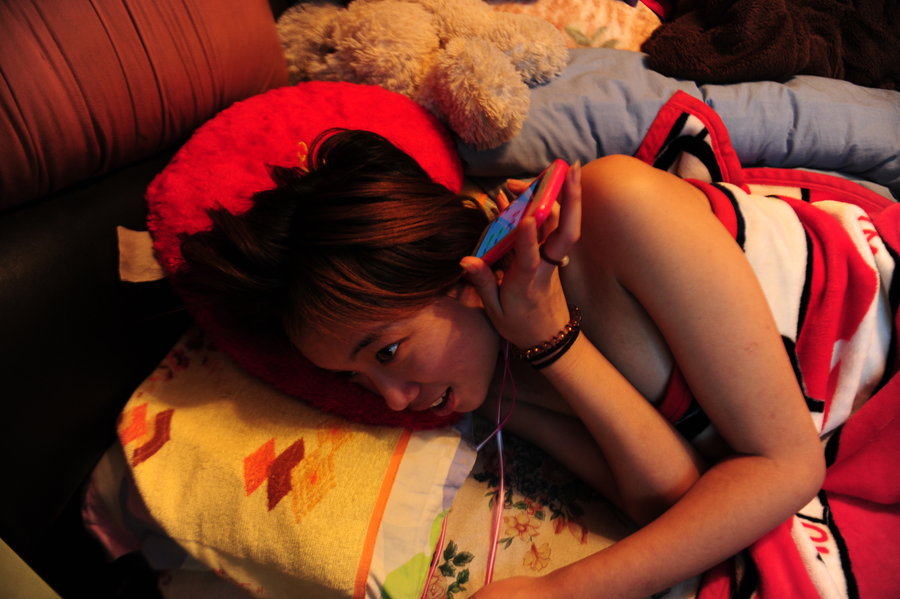 Xiaoxue listens to the WeChat voice messages sent by her online game fans after she wakes up in the morning at her home in Taiyuan city, capital of North China's Shanxi province, Dec 27, 2014. [Photo/CFP]
A girl, whose pet name is Xiaoxue, is an online host working for a game website. She lives in Taiyuan city, capital of North China's Shanxi province.
As an online game host, Xiaoxue has gained popularity not only for her singing and dancing skills, but also for playing online games and interacting with the fans.
She usually has to stay up late and unlike online hosts in first-tier cities who earn a lot, she earns 2,000 to 3,000 yuan ($322.5 to $483.7) each month.
Being an online host is emerging as a new occupation as the Internet industry booms in China. The hosts have their own online chat room, live broadcast their singing and dance videos, or interact with netizens in their own space.
Users who like the performance of the host or like talking and interacting with them send virtual presents such as roses, chocolates and other goods, to them. Of course, the netizens pay real money to buy the virtual gifts through an online payment system.
The hosts can cash the presents through the Internet company that delivered the goods.