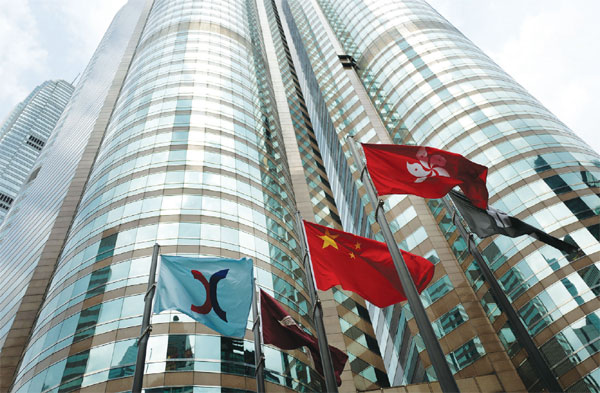 A view of Exchange Square in Central,Hong Kong.[File photo/China Daily]
South China Morning Post reported on Monday that the launch date for the Shenzhen-Hong Kong Stock Connect program will be announced as soon as this week and it will be officially launched in December, citing the newspaper Hong Kong Economic Journal.
According to China Daily, securities regulators of the Chinese mainland and Hong Kong are working closely with Shenzhen Stock Exchange and Hong Kong Exchanges and Clearing Ltd for the launch of the long-anticipated program.
Deng Ge, a spokesman of the China Securities Regulatory Commission (CSRC), said on August 12 that the commission has set up a special working group to lead and prepare for the stocks trading link.
"When relevant regulations and technical preparations are ready, the Shenzhen-Hong Kong Stock Connect will be launched this year," said Deng, without giving an exact date.
The special working group, headed by CSRC Vice-Chairman Fang Xinghai, is responsible for coordinating efforts among various departments within the commission and relevant government bodies and between the mainland and Hong Kong regulators, according to financial magazine Caixin on August 11.
In the same day, Hong Kong Exchanges and Clearing Ltd Chief Executive Officer Charles Li told CNBC that the stocks link is "imminent".
Li said the link is vital to bringing more tradable products to a wider marketplace in the future.
Cai Xiao contributed to the story