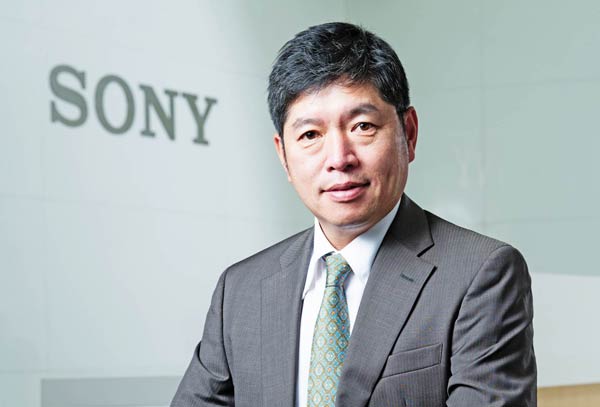 Hiroshi Takahashi, president of Sony China Co Ltd, said his priority in China is to better integrate Sony's operations in the country. PROVIDED TO CHINA DAILY
Led by Hiroshi Takahashi, it is rolling up its digital sleeves to vie with LeTV and Xiaomi
April 1 may be the day when even smart, wise people fall prey to practical jokes, but for Peking University's Japanese alumnus Hiroshi Takahashi, in his 60s, it marked the beginning of a really serious project this year: that of conquering the China tech market, potentially the world's largest, for Sony's local unit.
April 1 also signalled Takahashi's return to China, where he had worked for six years (1994 to 2000) with Sony. In fact, back then, he had helped found Sony Corp's China unit.
Now, as its head, he is back with a wealth of international experience gathered from the United States, Indonesia and Mexico.
He intends to use that, as well as his insights into Sony, his employer since 1985, to build a fortune for the technology and entertainment major in China.
"I had visited hundreds of Chinese cities, expanding Sony's marketing and distribution channels, designing business procedures and setting up recruits' appraisal system," said Takahashi, who succeeded Nobuki Kurita as president of Sony China Co Ltd.
He thinks his Mexico experience might be useful in devising strategies for Sony to penetrate the China market deeper.
Both China and Mexico, he said, are developing markets where up to 20 percent of the affluent consumer groups care for products with real value.
To understand such consumers' needs and meet their expectations, therefore, requires the ability to discern nuances.
For example, Takahashi knows the differences between the two markets, which he said could help him to better recognize what might click in China.
In Mexico, consumers are given to enjoying music. A life without music is not worth living for them. That translated to a big market for Sony's audio and television products in Mexico.
However, Mexicans are less passionate than Chinese about cameras. In China, people love internet-ready mobile devices with advanced cameras.
So, that's probably where one of the pots of gold lies for Sony deep in the China market, said Takahashi.
To dig for that pot, Sony China has undergone a three-year recast of its business. The restructuring helped the company's balance sheet gradually lose its red tinge between 2012 and 2014.
The Chinese market even contributed to the profit growth of Sony Corp's global digital image and home entertainment business. What's more, Sony China's handset business will likely return to the black in the July-September quarter, said Takahashi.
On May 24, parent Sony Corp projected its 2016 revenue to reach 300 billion yen, with China, the US and Japan expected to be the top three contributors to its profit.
In Sony's first-quarter to June 30, however, sales and operating revenue decreased by 10.8 percent year-on-year to 1,613.2 billion yen ($15.8 billion) due to the impact of foreign exchange rate fluctuations and a fall in mobile and smartphone sales.
Also, revenue from the financial services segment fell as investment in the form of Sony Life Insurance Co Ltd did not generate adequate returns, while sales of semiconductors and imaging products and solutions fell due to the impact of the earthquakes in Japan's Kumamoto region in April. All this has made success in China even more critical to Sony.
His first priority, he said, is to better integrate Sony's operations in China. There are three divisions, each focused on consumer products, professional products and parts, and music and video, respectively. Sony China owns seven factories.
To make all these work efficiently as parts of a larger whole is key as now is the time to grow and consolidate in China, Takahashi said.
China's tech and entertainment market has expanded in the last three years, but Sony's local sales have not. Takahashi said he will give more thought to changes in consumer structures and their demands.
In China, he said, the video and audio market has reached a saturation point. This means, efforts should be on offering consumers highly personalized and wide-ranging content that is high on quality and capable of delivering unmatched viewer/listener experience.
"Quantity is not our goal. We aren't seeking to raise our sales. Our aim is to create and lead a trend-a demand that consumers themselves might not have discovered yet," said Takahashi.
Towards this end, Sony's A7 series camera, armed with a new sensor technology, makes it possible for non-specialist lensmen to click professional-grade photographs and videos.
A7 is in line with Sony's focus on potential growth opportunities in the high-end gadget market, despite slowing economic growth in China.
"Some of the consumer groups don't seek price advantages. Rather, they look for a sense of satisfaction from using high-end products that deliver great performance. Whether or not Sony could offer them products with unmatched value-well, that's going to be the key to our expansion here (in China)," he said.
In March, Takahashi met with hundreds of distributors across China and asked his colleagues to be open-minded about potential new opportunities for business expansion.
Takahashi is intent on using his knowledge to give Sony China a fighting chance against domestic majors such as LeTV and Xiaomi. Given that Sony's world-class TV products boast 4K HDR technology and richer content on the back of its collaborations with Huashu, Tencent, Duomi Music and Baidu, Takahashi is confident the company is set to reap rich dividends from China's tech market.
In addition to Bravia series of TVs, Sony has lined up its new digital image products such as micro single camera, and high-fidelity audio products. These, Takahashi believes, will likely hold Sony China in good stead.
And new products like FES watches, Smart B-trainer and KOOV educational kits, which will be launched in China later this year, should make the fight for a larger slice of the tech market exciting, he said.