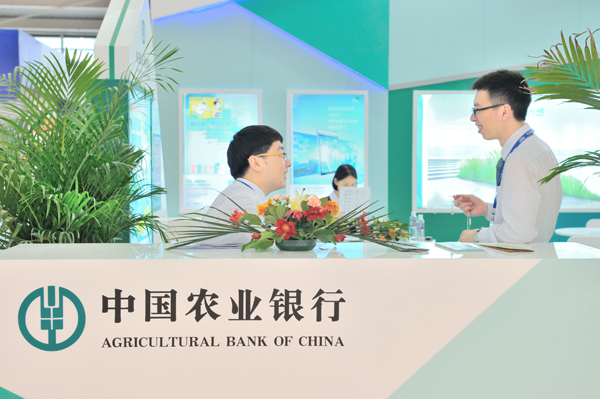 A booth of Agricultural Bank of China Ltd at a finance expo in Shenzhen, South China's Guangdong province, Nov 7, 2015. [Photo/VCG]
China's central bank has chosen Agricultural Bank of China Ltd to clear yuan transactions in Dubai for the United Arab Emirates, sources with direct knowledge of the matter said on Thursday.
ABC officials were not immediately available to comment. Officials at the People's Bank of China declined to comment. The sources declined to be identified ahead of an official announcement.
Choosing a Chinese lender to clear yuan transactions in the UAE is seen as a move to strengthen growing economic ties between China and the Middle East.
Qatar opened the region's first yuan clearing center in April last year, with Industrial and Commercial Bank of China Ltd becoming the clearing bank.
A clearing center can handle all parts of a currency transaction from when a commitment is made until it is settled, reducing costs and time taken for trading.
A clearing bank in the UAE could have a big impact on trade and investment in the Gulf region because Dubai acts as the region's top business center, handling flows of money and goods to countries in the six-nation Gulf Cooperation Council and beyond.
"In this region everyone thinks of Dubai as the hub for the whole of the Middle East," said Fang Min, senior executive officer of the agricultural bank.
"From an economic and financial center point of view, Dubai is the most appropriate (place) to set up an offshore yuan market."
Reuters in Dubai