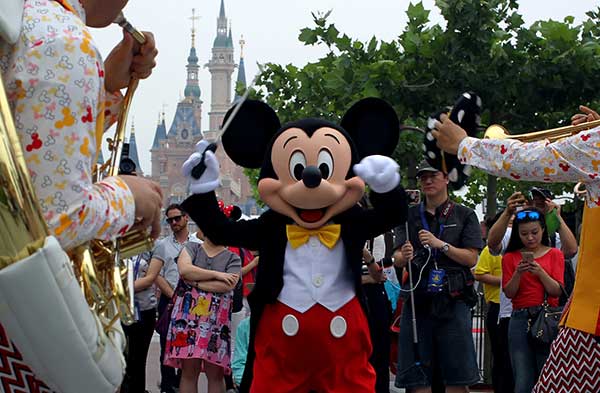 Mickey Mouse performs at Shanghai Disney Resort. Gao Erqiang / China Daily
Higher pre-opening costs at Shanghai Disney Resort partly contributed to a lower operating income of Walt Disney's international operations, according to a recent quarterly earnings report of the US-based media conglomerate.
Walt Disney earned $2.6 billion on revenue of $14.3 billion in its most recent quarter, up from $2.5 billion on $13.1 billion for the same period last year.
The lower-than-expected income of Walt Disney's international segment, dented by the costs of opening Shanghai Disneyland and lower attendance and higher operating costs at Disneyland Paris, was offset by an increase in domestic operations due to guest spending growth and lower costs, the report reveals.
Parks and Resorts revenues for the past fiscal quarter increased 6 percent to $4.4 billion and segment operating income increased 8 percent to $994 million.
Disney's newest park in Shanghai, with a cost of approximately $5.5 billion, has received close to a million visitors during less than a month after its opening, Disney Chief Executive Officer Robert Iger said last month.
Wang Jianlin, China's richest man and chairman of Dalian Wanda Group, a real estate and entertainment conglomerate, made an uncharacteristically bold remark prior to the theme park's opening, saying that "Wanda would make it impossible for Disney China to make profit in the next 10 to 20 years."
He also expressed doubt over the high cost of building such a theme park in China and believed that it would have to charge high prices in order to be profitable.