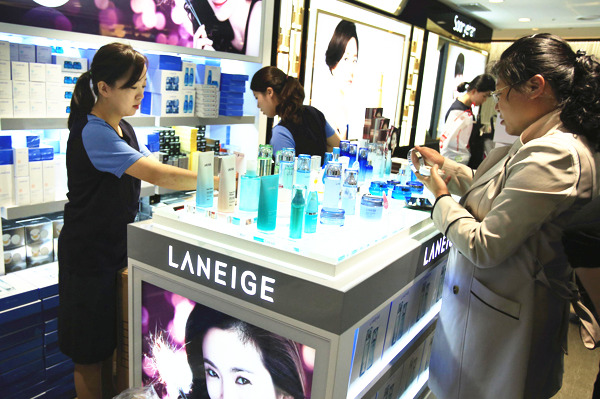 Chinese shoppers choose cosmetics products at a duty free shop in Seoul, South Korea. ZHU XINGXIN/CHINA DAILY
Buy, buy, buy! Shopping is not the only purpose that Chinese people travel abroad, but it is reality that outbound travelers are spending huge to buy products from daily necessities to luxury items.
According to Chinese International Travel Monitor 2016, the per capita spending of Chinese outbound travelers hit 22,592 yuan ($3,370) in 2015. The number of outbound travelers is expected to reach 200 million in 2020, up from about 100 million in 2014, said the China National Tourism Administration.
Not long ago, I was lucky to witness my fellow citizens' shopping in South Korea during a short trip to Seoul with my family members, and I was shocked. I found that Chinese tourists like to buy South Korean cosmetics the most.
Some travelers told me that South Korean companies' cosmetics are the same quality as those made by their Japanese and French peers, but the prices are lower.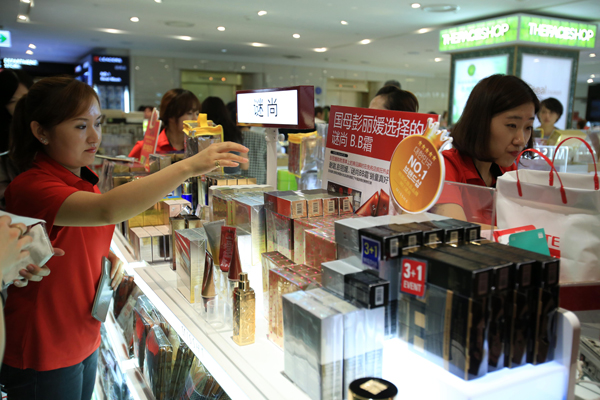 Chinese shoppers choose cosmetics products at a duty free shop in Seoul, South Korea. ZHU XINGXIN/CHINA DAILY
Take creams and face masks for example-those products keep Chinese shoppers coming back every day at the Lotte Duty Free Shop in Seoul. Brands such as Etude House and It's Skin are popular with them.
Creams made of snail slime and sea-kelp face masks might not seem to be big money-spinners, but they are exactly the kinds of products that had made South Korean cosmetics makers some of the nation's hottest investments.
But, it takes more than cool packaging and heavy discounting to keep Chinese shoppers, their biggest customers, happy.
According to a recent Bloomberg report, the two biggest players-Amorepacific, whose brands include Innisfree and Sulwhasoo, and LG Household, which owns The Face Shop-control about 60 percent of the South Korean market, but there is no shortage of other smaller companies, like privately held Nature Republic or recently listed It's Skin, nipping at their heels.
Other than South Koreans, Chinese consumers are the biggest buyers and have turned away from Japanese cosmetics as the yen climbs.
Over the past few years, stock prices of South Korea's top cosmetics producers have soared as consumers snapped up lotions made famous by hugely popular K-Pop artists. Amorepacific, whose shares are up 144 percent since July 2014, has buy recommendations from 33 analysts, largely on the back of sales to Chinese tourists and rising exports, Bloomberg said.
Both Japan and South Korea see Chinese tourists as a major powerhouse to drive up their economies. They are described by Western media as "walking wallets".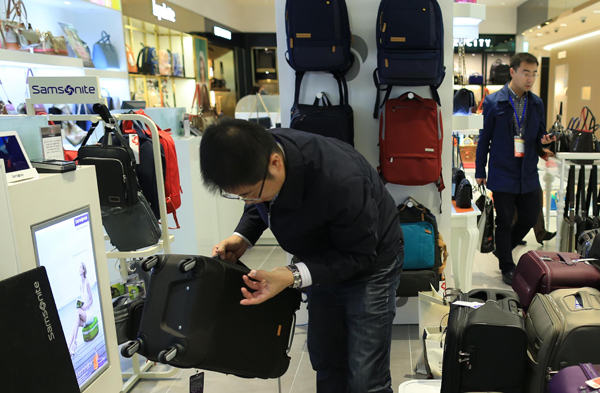 Chinese shoppers choose cosmetics products at a duty free shop in Seoul, South Korea. ZHU XINGXIN/CHINA DAILY
According to official data, more than 6.11 million Chinese people traveled to South Korea in 2015, with their per capita spending reaching 14,283 million yuan.
Nevertheless, I still wondered why so many Chinese tourists elbowed their way into the Lotte Duty Free Shop to buy cosmetics, while holding smartphones in their hands for video talks their relatives and friends in China.
Li Fang, my former colleague who often goes to South Korea for shopping, said that many Chinese shoppers, especially those who are unfamiliar with South Korean cosmetics brands, and the prices and functions of different products, need to consult their domestic friends and relatives through video phones. Some people were asking friends and relatives at home which products to buy.
Gao Hucheng, minister of commerce, said earlier this year that Chinese outbound consumption reached 1.5 trillion yuan in 2015. Of which, at least 700 billion yuan to 800 billion yuan were spent on shopping. Middle-and high-income groups accounted for a considerable proportion of the Chinese shoppers overseas, with their shopping items shifting from the luxury brands and high-end products they bought two years ago to high-quality, cost-effective goods suitable for daily consumption.
I believe that the huge Chinese outbound spending mirrors current comparatively inadequate consumption in our country. Why don't they buy similar products here? The current supply-side reforms promoted by the government should be pushed further to encourage purchases within China of both domestic and overseas products.