Revenues at park expected to reach 33 billion yuan a year, report says
The Shanghai Disney Resort, which officially opened on Thursday, is expected to surpass the Palace Museum in Beijing as the top spot for visitors in China.
According to a report by online travel agency Ctrip, the resort is expected to receive at least 15 million visitors a year, more than 40,000 a day.
Last year, the Palace Museum saw a total of 15 million tourists.
With each visitor expected to spend an average of 2,219 yuan ($340) on a trip to Shanghai Disney, revenue would reach 33 billion yuan a year, the report said.
It also found that tourists from Shanghai are likely to make up 40 percent of visitors.
Beijing and Tianjin municipalities; Hangzhou, Zhejiang province; Nanjing, Jiangsu province; Wuhan, Hubei province; and Guangzhou and Shenzhen in Guangdong province, are expected to round out the top 10 sources of Shanghai Disney visitors.
Tourists from areas near Shanghai, like Zhejiang and Jiangsu provinces, spend an average of 1,200 yuan per person, as they don't have to pay a lot for transportation.
Those from cities farther away, like Beijing and Guangzhou, or Shenyang, Liaoning province, spend an average of 2,500 to 3,000 yuan each.
But such a trip is still thought economical compared with one to Tokyo Disney in Japan, which usually costs 7,000 to 8,000 yuan per person.
Chi Huiguang, a Beijing resident who went to Shanghai Disney Resort on a high-speed train, said she has been to Disneyland in Los Angeles, but the one in Shanghai was equally good - especially the smiling staff - despite the long lines and high prices for tickets and food.
Hu Dongyuan, a 29-year-old Shanghai resident, went to Shanghai Disney early this month with her parents during the resort's trial operation.
"Each of us spent about 400 yuan, as we didn't have to pay much for transportation, and we brought food ourselves," Hu said.
"We had to stand in line for one or two hours in order to get into each place, but generally speaking it's good and worth the trip."
Ctrip said about four out of 10 current visitors are couples and 30 percent are parents accompanying their kids. But as the summer vacation arrives, more parents are expected to visit the resort with their children, the agency said.
It also forecast that a peak in visitors would appear during the 10 days after the official opening of the resort and in early July. So trying to avoid the peak would be better, the agency suggested.
The resort is expected to receive at least 7.3 million visitors within the year, according to the agency.
Cao Yin contributed to this story.
zhaoxinying@chinadaily.com.cn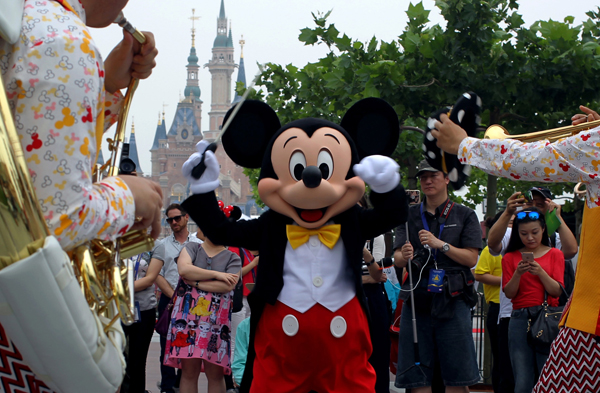 Mickey Mouse performs at Shanghai Disney Resort. Gao Erqiang / China Daily