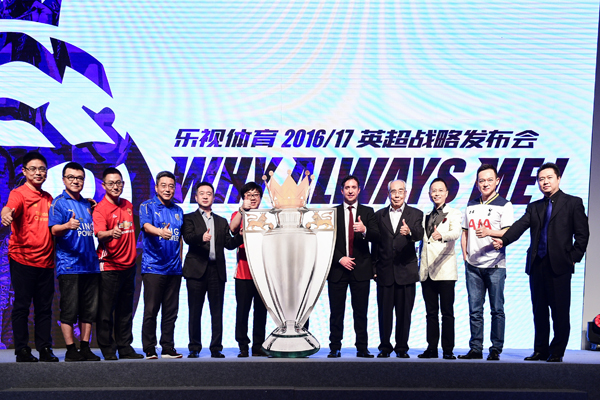 Officers of LeSports, football commentators, and other guests are giving their thumbs up on the stage of LeSports's press conference in Beijing, August 11, 2016. [Photo provided to chinadaily.com.cn]
LeSports, China's leading internet-based sports company, announced at a press conference held in Beijing on Thursday that it will continue to broadcast the upcoming Premier League online, making all 380 matches available to its subscribers who get the one-year LeSports Pass.
LeSports extended its deal with Supersports (the exclusive rights holder of 2010-19 Premier League in China) from the existing broadcast rights of 230 matches on PC and mobile to also including the broadcast rights of 380 matches on over-the-top TV (OTT) for the first time. LeSports will present the 2016-17 season in an omni-media level.
There will be live broadcast of all fixtures, a variety of original and exclusive Premier League programs and image-text news across all devices. A team of commentators that can offer multilingual commentary in Mandarin, Cantonese and English will be established.
In addition, 360 degree panorama technology and augmented reality (AR) will also be introduced to bring the most authentic audiovisual experience to the users, the company said.
In another deal LeSports signed with Supersports, all 380 matches including 150 premium matches for PC and mobiles will be available to subscribers who pay a 590 yuan ($88.9) one-year LeSports Pass.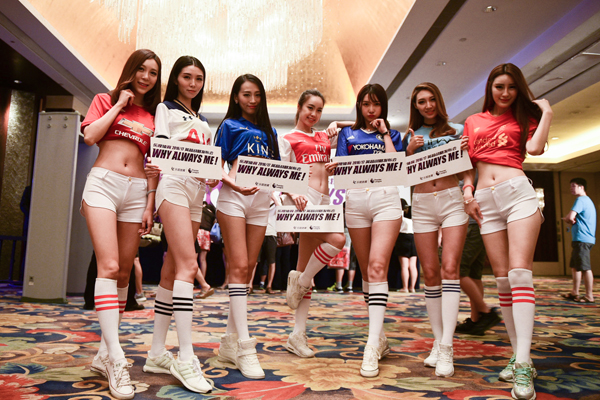 Football girls hold LeSports's placards saying "Why always me" at the press conference in Beijing, August 11, 2016. [Photo provided to chinadaily.com.cn]
"LeSports added 1.5 million subscribers since rolling out its first ever paid membership service this April," said Yu Hang, chief operating officer of LeSports.
He said it is the fourth consecutive year for LeSports to broadcast the Premier League and the company is going to introduce more top-notch sporting events in order to constantly upgrade users' experience by offering the very best from the world of sport.
Being labeled as "the empire of copyright", LeSports has held almost all of the world's top level football matches' broadcast rights, including the Champion's League, Serie A and Ligue 1.
"We are exploring a healthy path of development for China's sports industry, rather than just splashing the cash," said Liu Jianhong, chief content officer of LeSports.
"The subscriber based mode is the footstone that can promote the industry to develop in a healthy way. If the mode of paying for sports content cannot be carried out in China, China's sports industry will never cross the threshold between amateur to professional," Liu said.
Qiang Wei, chief marketing officer of LeSports, said the number of subscribers of LeSports is expected to reach 3 million by the end of the year.
Robbie Fowler, Premier League legend, also appeared at the press conference. He said that what Chinese football fans can get in China is fantastic, with a platform giving them the chance to watch all the matches of the Premier League.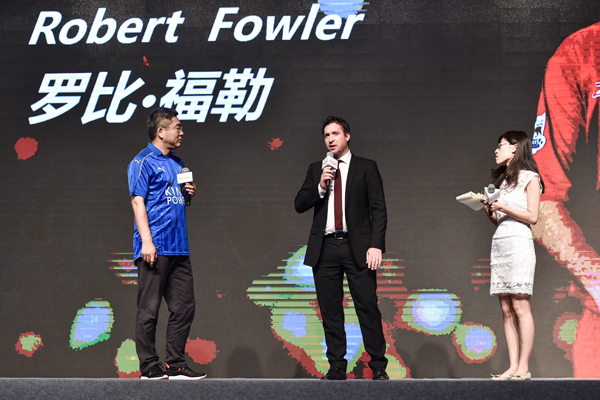 Premier League legend Robbie Fowler speaks on the stage of LeSports's press conference in Beijing, August 11, 2016. [Photo provided to chinadaily.com.cn]