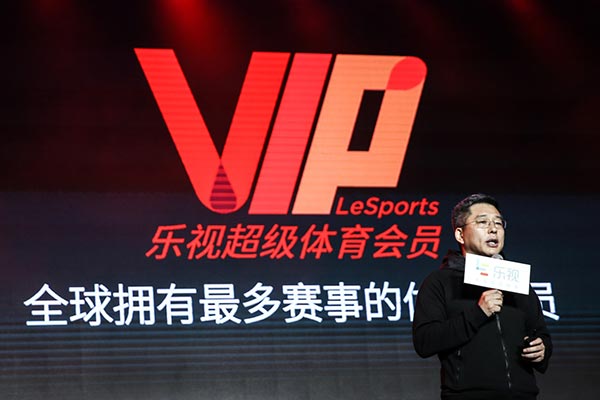 Liu Jianhong, CCO of LeSports delivers a keynote speech on April 6, 2016 at a press conference of the company. [Photo provided to chinadaily.com.cn]
The number of watch-to-pay subscribers will continue to increase as the consumption habits of sports lovers gradually change in the country.
LeSports, the sports arm of Chinese Internet company LeEco Holdings Ltd, announced its VIP paid membership plan on Wednesday, marking Chinese mainland the second region to launch the service after Hong Kong.
"The Chinese mainland launch also represents the most commercially promising and strategically significant deployment of the membership strategy," the company said in a statement.
By utilizing LeEco's rich online broadcasting copyrights cooperation with local broadcasters and sporting associations, the firm provides domestic sports game viewers with an all-in-one membership subscription package that is priced at 590 yuan ($91) per year.
Other membership options, such as 159 yuan per quarter and 59 per month, will be also available from April 14.
Established on March 22, 2014, LeSports became independent from former Letv.com and started distributing its businesses across the entire sports spectrum based on the unique value proposition of combining events operations, streaming content, and smart devices with internet services.
Earlier last month, it announced it had secured $1.2 billion in Series B financing, bringing the company's total investment to $1.35 billion.
"From viewers to users, from free to paid, from passive to interactive, and from single events to the full ecological sporting experience, we're bearing down on the last mile of the development of the sporting sector by addressing a key weakness in the industry," said Lei Zhenjian, founder and CEO of Le Sports. "Only by providing users with compelling value and a satisfying experience can a business truly thrive and prosper. This is the responsibility and mission of LeSports and of all people in the sports industry."
With the increasing popularity of sports and the rise of the smartphones and smart televisions, there exists a strong demand among Chinese audiences for online sports.
"There are more than 10 million users watching sporting content via LeSports platform on any given day," said the company.
Paid subscription membership for watching online content gradually became acceptable in the nation as the awareness of intellectual property rights rose.
"The number of paying viewers in 2015 soared 264 percent to 28.84 million, and is expected to reach 54.41 million this year," according to a report by iResearch Consulting Group in China Daily.
It said the number of paying viewers in 2015 soared 264 percent to 28.84 million, and is expected to reach 54.41 million this year.
Revenue from online viewing memberships jumped from 1.39 billion yuan ($214.6 million) in 2014 to 5.13 billion yuan in 2015, up 270 percent.
"The next couple of years will see continued rapid growth in revenues and could reach 18.79 billion yuan in 2018," said the consulting company.
However, the penetration rate of paid users is still low at 5.7 percent, suggesting the potential for development is huge.
Compared to viewers of general entertainment content, sports fans have a number of unique characteristics: they are more likely to be focused on live broadcasts, with more specific interests that include greater interactivity. These characteristics make a strong case for providing sports fans with personalized membership services that meet their unique needs.
The VIP membership scheme is independent from the existing LeVIP membership system as it provides extensive premium content across a wide array of display devices (including Super TV, Superphone, PC, mobile, cinema, and, in the future, Le VR and Super electronic vehicle), as well as powerful personalization features, and various exclusive event and product offers available both online and off.
Since its establishment, LeSports has obtained the rights for more than 310 blue-chip sporting events and 10,000 individual matches, of which 72 percent came from exclusive rights.
Backed by this strength, the all-in-one LeSports VIP Membership will provide access to the largest number of copyrighted events, including not less than 1,500 exclusive premium matches, far surpassing the more established sporting TV brands such as ESPN and SKY Sports.
During the program's launch event, Le Sports' chief content officer Liu Jianhong said that Le Sports will spend 6 billion yuan acquiring the rights to premier sporting events for its VIP members.
Regarding the CSL, Liu Jianhong confirmed that starting from the 16th round of the 2016 season, LeSports will present at least one match each round with its top-of-the-line production capability for its VIP members, and delivering exclusive coverage to paying customers.
In addition, the final round of the Asian Football Confederation qualification matches for the 2018 FIFA World Cup, as well as Asian Champions League matches, will be available to LeSports VIP members. All matches excluding those involving the Chinese national team will be exclusively available.
During the launch event, Liu Jianhong also disclosed that Zhan Jun, one of the top Chinese commentators for the English Premier League, has renewed his service contract with LeSports for another three years.
LeSports has built a dream team of more than 100 commentators led by top industry professionals that include Liu Jianhong and Huang Jianxiang. The team will be further expanded to more than 200 professional commentators in 2016.
With respect to LeEco's Super TV, LeSports will first launch a large-screen sports desktop for fans that will represent the first smart TV desktop specifically developed for sports fans.
The desktop will allow users to quickly find sports content from a massive content library, in addition to more than ten unique features that include 360 degree panoramic views, split screens for as many as nine cameras, multi-language commentary, streaming acceleration, and ad blocking.
In addition to sports content, LeSports VIP Membership offers a wide variety of related services unique to the Le ecosystem. These services include VIP privileges when purchasing tickets to sporting events, members-only discounts on Le Sports Mall, and membership points redemption. Some of the offerings that are particularly noteworthy include tickets to the International Champions Cup China, sponsored by Le Sports, and officially licensed MLB baseball caps exclusively offered on LeSports Mall.
Currently, including LeSports, there are four main players compete in the nation's sports game "watch-to-pay" market, while the feedbacks from the sports hardcore are not always positive.
In January, 2015, Tencent Video, backed by Chinese Internet giant Tencent Holdings Ltd, signed a $500 million agreements for a five year extension to its existing deal with the National Basketball Association of the United States, giving the company exclusive rights to stream games in China.
In an online survey conducted by basketball online community nba.hupu.com, 30 percent of its registered users voted against Tencent's 30 yuan monthly paid subscriptions membership for watching the NBA games.
By comparison with the world's leading sports media conglomerate – ESPN Inc, who generated two thirds of the subscription fees from $10,000 million annual revenue, the counterparts in China have a long way to go.
"Watch-to-pay is the future for China's sports online streaming industry, and no one will skip the development process if it wants to make a progress for the country's sports business industry", said Yu Hang, vice president of LeSports. "Sooner or later, paid subscription membership system will get matured in the market, while the key is how long will it take to reach the target and what kind of content will be charged."