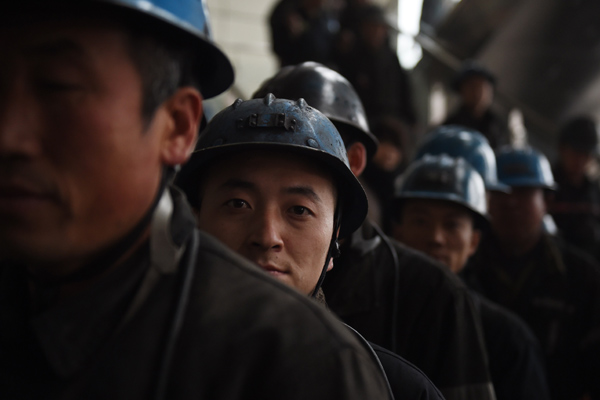 Miners wait to enter the Tashan Coal Mine near Datong, in Shanxi province. AFP
Tashan Coal Mine, the world's largest single-entry underground mine, has cut its production capacity by 15 percent over the last four months, in a key feature of the supply-side reform in China's coal industry.
"The company has been strictly following the 276-working-day limit and the production safety notice issued by the central government and the provincial administration," said Zhang Meiping, director of Tashan Coal Mine, located 15 kilometers to the southwest of Datong, Shanxi province.
Tashan Coal Mine, which became operational in 2006, has an annual designed capacity of 15 million tons. It is owned by Shanxi Datong Coal Mine Group, the third-largest mining company in China.
China is the world's largest coal producer and consumer, but the coal industry has long been plagued by overcapacity and felt the pinch even more in the past two years as the economy cooled and demand fell.
According to the earnings of 2015, the liabilities of seven State-owned mine companies in Shanxi province were 1.1 trillion yuan ($165 billion), a 10 percent increase year-on-year.
Among those, Datong Coal Mine Group, the largest mining company in the province, has the most liabilities, up to 219 billion yuan.
In early April, the central government stepped up its efforts to reduce both oversupply and pollution in major cities by reducing the number of working days for its coal miners to 276 a year from 330.
Since then, Tashan Coal Mine has reduced its annual designed capacity by 15 percent to 12.6 million tons.
Shi Li, a manager at Tashan Coal Mine, said the biggest benefit from the new regulation was the great improvement in work safety, since workers can rest efficiently and equipment can be repaired properly, Shi said.
"After the reduction of output, we changed the manufacturing technology, which helps reduce manufacturing costs and improve working efficiency," he added.
In order to upgrade its regional coal industrial chains and echo the national development priorities, Shanxi province announced plans to reduce its coal overcapacity by 20 million tons by the end of this year, and the reduction amount is expected to reach 100 million tons by 2020.
Hu Wansheng, deputy director of the province's coal industry department said technological innovation on non-pollution mining and cleaning, low-carbon, and efficient use of coal is the only way forward for the coal industry.