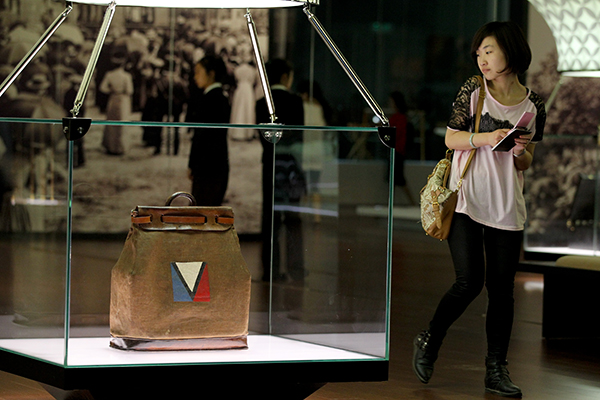 A woman looks at a Louis Vuitton handbag during an LV products exhibition in Beijing. The US contributed a third of the growth in sales of luxury goods in the past three years, second only to China, according to Exane BNP Paribas. [Photo/China Daily]
High-income shoppers become tight-fisted, but some brands march on
Hold on to your handbags.
If spending on bling watches and "it" bags depends on stable markets and happy shoppers, then now is not the time to bet on sellers of luxury goods. Economic uncertainty stretching from China to Europe, along with global stock market and currency swings, have pricked the confidence of high-income shoppers in the US. That doesn't bode well for luxury demand.
Even before Britain's vote to leave the EU stoked worries over European retailers, China's attempt to drive down conspicuous consumption amid a slowing economy had spooked global brands such as Tiffany and Prada. That, along with a strong US dollar, led to fewer visits from foreign tourists to US department stores such as Neiman Marcus and Bloomingdale's.
Meanwhile, shares in global luxury-goods makers followed by Bloomberg Intelligence have dropped by 13 percent in the past year, compared to a 4 percent fall in the MSCI World Index and a 3 percent increase in the S&P 500.
A slowdown in the US, the world's biggest luxury market, could send luxury sellers into a tailspin. Even though robust job gains propped up the US stock market on July 8, the long-term trend of slowing job growth, uncertainty over when the Federal Reserve will raise interest rates, and rocky global markets continue to strain the confidence of big spenders who are increasingly choosing to stay on the spending sidelines.
Americans have contributed about a third of the growth in sales of luxury goods in the past three years, second only to the Chinese, according to analysts at Exane BNP Paribas. But now, folks here also seem to be pulling back.
Its not just weaker tourism. Richemont, which owns brands such as Cartier and Panerai, reckons uncertainty ahead of the US election is also dampening down the once-strong market. Slumping energy prices are also hurting Neiman Marcus, many of whose shoppers' wealth is tied to the oil and gas business.
With the US stumbling, there are few other places for global luxury sellers to find growth. Even Japan, which has been a magnet for Chinese shoppers seeking to take advantage of a weaker yen, is under threat, as the Japanese currency has strengthened against the yuan.
Ironically, one bright spot could be Britain. The pound's weakness against the US dollar and the euro makes it more attractive for overseas visitors, who can get more Hermes scarf or Burberry trench coat for their money. Average spending per transaction by Chinese travelers to the UK rose 14 percent in the ten days after the referendum, according to Global Blue, which tracks tax-free shopping.
In luxury terms, the UK remains small, accounting for just 6 percent of the global luxury market, according to analysts at Bernstein.
Nevertheless, Burberry is the obvious beneficiary of higher demand in Britain. Its shares are up about 5 percent since the UK voted to leave the EU, outperforming the Bloomberg Intelligence Global Luxury Peer group, which has fallen by a similar amount. Elsewhere, LVMH and Kering look resilient, thanks to LVMH's diverse set of businesses-including makeup and wines and spirits-and a turnaround at Kering's Gucci. Both are trading at a discount to the Bloomberg Intelligence luxury peer group.
Many of the affordable luxury brands in the US could benefit from shoppers trading down from Prada purses to Kate Spade clutches, as well as consumers who forgo apparel for jewelry and accessories that go for lower price points-think $400 Stuart Weitzman pumps instead of a $10,000 Gucci dress. Price-to-earnings ratios remain near record lows for this group, with companies such as Michael Kors and PVH trading below the Bloomberg Intelligence luxury peer group.
Still, Ralph Lauren, Michael Kors, and PVH all get more than a fifth of their sales from Europe.
Self-help will become even more important if brands can't depend on macro forces for growth. Turnaround stories at Coach and Ralph Lauren could fuel further share gains at these companies as they pull back goods from discount-frenzied department stores and focus on brand-building through retail locations and online commerce-that is, if executives are able to deliver on their promises.
For now, it mostly looks like buoyant trading in global luxury groups won't be back in style anytime soon.
Bloomberg