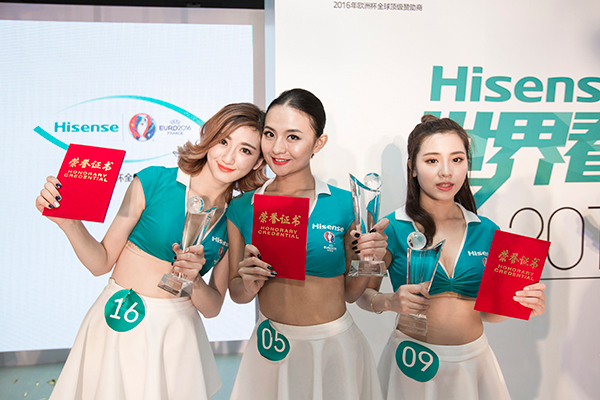 Three women display their honorary credentials during a Hisense baby selection contest for the company's promotion as a sponsor of 2016 UEFA European Championship. [Photo/China Daily]
Chinese home appliance producer Hisense was one of the top 10 sponsors of the 2016 UEFA European Championship, or Euro 2016.
This is the first time that a Chinese sponsor backed the 56-year-old quadrennial European men's football championship.
The 15th edition of the 51-game tournament, which Portugal won last fortnight by beating France, reportedly enjoyed seven billion views on television and online.
It is reasonable to say the Chinese sponsor, whose key products are televisions, made a calculated move to get global visibility.
Hisense's sales in Europe in the first half of this year grew 50 percent year-on-year. Television sales also rose 64 percent year-on-year in the same period, according to Lin Lan, vice president of Hisense. "It was our wisest decision to invest in Euro 2016."
Adam Zhang, founder of Key-Solution Sports Consultancy, said Euro has become popular in China as football has gained unprecedented attention and stirred sports-lovers' passions of late.
The government is keen to make China a football power. More and more kids are taking to the game. And corporate majors are pumping in big investments to buy football clubs overseas, promote the game in China through local league sponsorships and build infrastructure like academies and training facilities.
Not just appliance makers, even sports-related brands are drooling at the prospect of sponsoring football events and eventually boosting their sales.
Euro 2016 may have laid a solid foundation for future growth of sales of sports brands in China, said Zhang. "Many football manufacturers in China have told me orders for small-sized footballs are growing. They are working hard to increase their output this year."
Footballers wearing Nike's Mercurial football shoes, which are ranked No 1 among all sports shoe brands, scored 35 goals, or more than 50 percent, in Euro 2016, potentially brightening its brand image.
Sales of Mercurial shoes in China started in May before Euro 2016 began, but Nike has not released any data yet.
In Europe, after Germany's 0-2 loss to France in the Euro 2016 semi-final, Nike's rival Adidas may have felt a twinge of sadness. For the first time in three decades of modern sports sponsorship, the company did not have a team sponsored by it playing in the Euro final.
Nike and Adidas have battled in the $5-billion global soccer sponsorship market since the 1990s. Nothing is more attractive to them than top national and club teams donning jerseys with their logos.