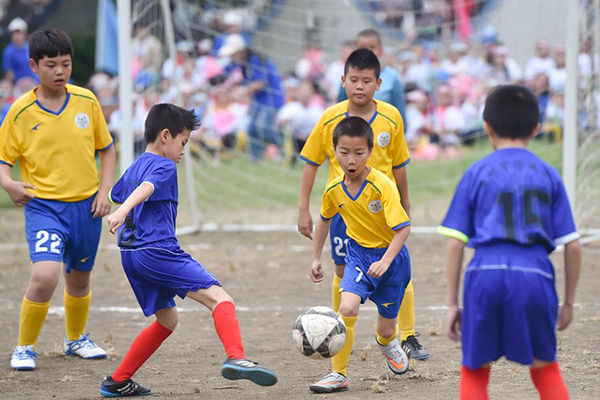 Pupils play football in the 1st School Football Culture Festival of Xiangban Primary School in Fuzhou, the capital of Southeast China's Fujian province, on May 20, 2016. [Photo/Xinhua]
Hulk had quite the welcome to China. Shortly after his plane landed at Shanghai's Pudong International Airport, hundreds of chanting fans mobbed the Brazilian soccer star as he pushed his way through the crowd on June 29. Hulk, who recently inked a record-breaking deal with Shanghai SIPG, is just the most recent soccer star to sign up.
Long a soccer backwater, China has gone on a buying spree unprecedented in the history of the game. Chinese money, of course, has been flowing into all sorts of sectors: technology, health care, retailing, you name it. And now it's soccer, a move that follows Middle Eastern and Russian investments into the game.
What differentiates China is the speed and scale of the country's new-found appetite for all things soccer. Chinese companies have invested $1.7 billion in sports assets-the vast majority soccer-related-since the beginning of 2015, according to Bloomberg data. As recently as five years ago, that number was zero.
"It's insane," said Brazil-based sports lawyer Marcos Motta, who's worked on several deals. "I have never seen anything like this before."
Led by some of the country's richest men, including Dalian Wanda Group Co founder Wang Jianlin and Alibaba Group Holding Ltd's Jack Ma, Chinese businesses are at the table for almost every soccer asset up for sale. In recent months, a dizzying array of deals have roiled the industry-from signing soccer players and coaches to Chinese investments in storied clubs and buyouts of sports-media businesses.
Next year the Milan derby, one of European soccer's most-prestigious games, will feature two teams recently purchased by the Chinese, assuming both deals conclude without a snag. Nanjing-based Suning Holding Group Co in June paid 270 million euros ($298 million) for a 70 percent stake in 18-time Italian champion Inter Milan, while a separate consortium is nearing an agreement to acquire 80 percent of AC Milan, a seven-time European champion, from former Italian Prime Minister Silvio Berlusconi.
"There will be more acquisitions and of very famous teams," said Feng Tao, chief executive officer of Shankai Sports, a Beijing-based consultant that has advised on deals, including Wanda's $1.2 billion purchase of Swiss-based sports-marketing company Infront Sports & Media AG.
Most striking of all, though, has been the sudden rush by teams to pay huge sums on importing talent. Chinese Super League clubs outspent those from any other country this past winter, spending a combined $280 million for European soccer stars. And Shanghai SIPG, a team owned by the Shanghai International Port Group, just broke the Chinese record again with its trade to acquire Givanildo Vieira de Sousa, popularly known as Hulk, for $61 million. Paving the way have been agreements with soccer's top agents. Alibaba's sports unit has a partnership with Cristiano Ronaldo's manager Jorge Mendes.
The dollars doled out to China-bound players and coaches are infinitely greater than they could command elsewhere, according to Motta. It's common for top players to get 7 million or 8 million euros, more than five times what they would get in Europe, he said. Motta is working on a deal that will pay one player 13 million euros per year, he added-and that's after taxes.
Wanda has also bought a minority stake in Atletico Madrid, last season's Champions League finalist. That deal was followed by a slew of Chinese companies investing in European clubs to buy soccer expertise China doesn't have and to help develop young players. Buyers are popping up in every corner of the country's business elite, from the owner of a monosodium glutamate company buying England's Aston Villa to a consortium led by hotel entrepreneur Chien Lee taking control of France's OGC Nice.
"Our goal is not just to promote OGC Nice, but to promote the whole city of Nice to China," said Lee.
Bloomberg