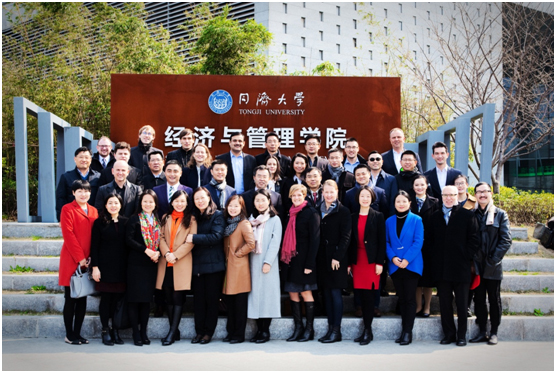 Faculty and participants pose for a photo at the opening ceremony of the Mannheim-Tongji Emba program, which started on March 8. [Photo provided to chinadaily.com.cn]
Universities unite in culture, science, technology exchange
The first and only Sino-German MBA program, a partnership between the German Mannheim Business School and the Tongji University School of Economics and Management in Shanghai, is entering its sixth year of collaboration.
A new session of the Mannheim-Tongji executive MBA program kicked off on March 8.
Established in 1907 by the German government with German physicians in Shanghai, Tongji is regarded as the window of cultural, technology and science exchanges between China and Germany. Tongji SEM is renowned for its academics, cutting-edge research and teaching excellence, especially in the engineering and manufacturing industries.
Mannheim Business School, an umbrella organization of management education at the University of Mannheim, is a leading business school in Germany and among the best in the world.
As economic relations between China and Germany intensified in recent years, the two leading business schools joined forces to establish the program in 2010.
"Combining the two institutions' strengths and advantage resources, the Mannheim-Tongji EMBA provides senior executives and high-level talents from around the world with the knowledge, skills and business tools necessary for international management, competition and other business challenges," said Huo Jiazhen, dean of Tongji SEM.
"We are all aware of the significance and dynamism of Sino-German trade relations. As the strategic economic partnership between China and Germany has strengthened, the need for management education programs that focus on Sino-German relations and build a bridge for the exchange of the business elite is more than apparent," said Bettina Kosiel, the director of the EMBA program at Mannheim Business School.
Kosiel said the successful development has to do with the program's concept.
"We have created a course of study that is not only highly innovative but also unique in its structure, its content and its target group. Meanwhile, the high level of international quality also helps to build the program's success," Kosiel said.
"Not only did the number of participants rise by a third, but also about one-third of them already got their master's or PhD degrees before," Huo Jiazhen said at the new session opening ceremony for the Mannheim-Tongji EMBA program held recently in Shanghai.
"I must attribute this outstanding achievement to our professors, directors and administrative staff at both institutions, as well as our board members, companies, and alumni," Huo said.
According to the school, 72 participants are currently enrolled in the program and 82 have graduated.
Tongji SEM is a full member of global education institutions. It has also established partnerships with more than 70 business schools and universities in 15 countries and regions in terms of faculty and student exchange and scientific research. In May 2015, The Financial Times ranked Mannheim Business School as No 5 of its best German supplier for customized programs, a climb of seven positions from the previous year.
"The Mannheim-Tongji EMBA program offers Chinese and German executives the best management education, cultivates personnel mastering both Chinese and German corporate cultures to conduct global business management and provides a broad general management expertise with a strong focus on Sino-German topics," Huo said.
The dean said the economic downturn has had an impact on business schools but also gives "an opportunity for making adjustments and to further boost business education quality".