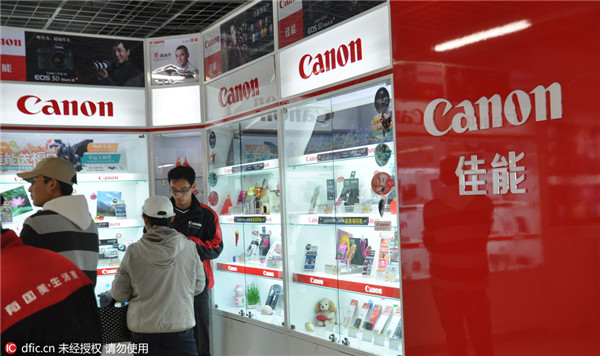 Customers shop at a Canon store in Qingdao, East China's Shandong province, April 21 2013.[Photo/IC]
Japanese camera and printer maker Canon Inc said Thursday it is aiming to boost its Asia revenue to $10 billion by 2020, by leveraging the tourism and e-commerce boom in China and other countries.
Fujio Mitarai, chairman and CEO of Canon, said despite the current economic slowdown, "Asia will continue to be the growth center of the global economy, driven by a growing population and an expanding middle-income class in the mid-to-long term".
Last year, the company posted 867,200 million yen ($7.9 billion) in revenue in the Asia and Oceania region, with Japan excluded.
Hideki Ozawa, president of Canon Asia Marketing Group, said China will remain one of Canon's most important markets, with the country's thriving tourism industry and growing demand from small cities expected to boost sales there.
"We will further develop the markets in small cities through roadshows, so that more consumers can have first-hand experience of our products," Ozawa said, adding the company will also expand online retailing channels to reach consumers in a faster and more convenient fashion.
Currently, e-commerce is becoming an increasingly important channel for Canon, accounting for 30 percent of cameras sales in China.
The Japanese multinational plans to expand the e-commerce initiative to more countries in Asia.
The announcement came as the 79-year-old enterprise wrestles with falling sales of digital cameras, which have been hurt by the proliferation of smartphones, and sluggishness in printers. Rivals like Nikon Corp are also facing the same dilemma.
Zuo Yanque, brand director of industry watcher China Market Monitor Co Ltd, said the camera market, as a whole, is shrinking, but the high-end niche still enjoys steady growth.
"China is the world's largest buyer of top-end single-lens reflex cameras. Recent years have seen a growing demand from teenagers and senior citizens who have become big fans of photography. The tourism boom in China will also spur its growth," Zuo said.
Last year, more than 120 million Chinese traveled abroad, up 12 percent year on year, according to China National Tourism Administration.
In addition to safeguarding its presence in the camera market, Canon is also looking for new growth points.
"In the next five years, we will also focus on promoting medical equipment and security cameras in Asia. There is huge demand for these products," Ozawa said.
Earlier this year, Canon agreed to buy Toshiba Corp's medical equipment unit for 665.5 billion yen in an attempt to enter into high-margin medical devices.