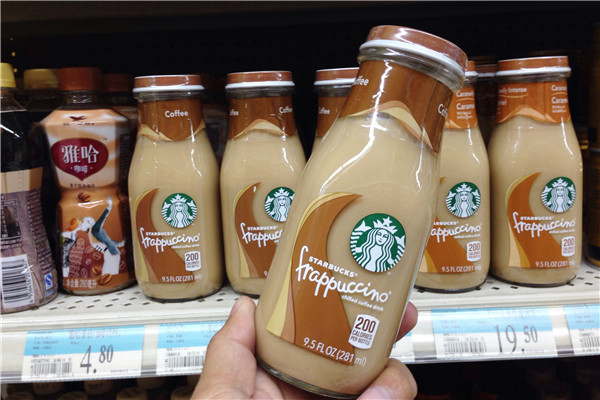 A ready-to-drink bottled coffee sold at a supermarket in Fuzhou, Fujian province.CHEN HAO/CHINA DAILY
China will continue to offer potential for high growth to coffee beverage players, experts said.
For, new consumers are being continually attracted to support the ready-to-drink or RTD coffee and coffee pod machines, they said.
Hope Lee, senior analyst of Euromonitor International, said increasingly, coffee beverage players are looking beyond younger consumers and white-collar workers in big cities to expand the market. Some people in second-tier cities have already picked up the habit of drinking coffee.
"The expanded consumer base is now an attractive platform for brand owners, although 'the journey of nurturing coffee drinking' is still an ongoing challenge," said Lee.
In terms of channel development, food service sales of RTD coffee are still limited as consumers are habituated to drinking tea and other beverages. RTD coffee is not the most suitable complementary beverage for Chinese taste buds, he said.
However, Euromonitor International's hot drinks database shows that sales of hot coffee have started to take off and outpaced retail sales in volume growth terms.
With RTD coffee expected to record a net sales increase of around $1.6 billion for 2015-20, this huge potential has attracted a great deal of investment from major players.
China's RTD coffee market will grow from the current 6.65 billion yuan ($1.02 billion) to a forecast of 18.6 billion yuan by 2020, according to Euromonitor International.
Nestle SA led the market with 58.1 percent share in 2015, followed by Suntory Holdings LTD at 12.6 percent and Uni-President Enterprises Corp at 5.2 percent.
While Nestle's market share rose from 56.4 percent in 2014, Suntory and Uni-President have seen a decline in their share from 14.2 percent and 6 percent respectively.
Lee said Coca-Cola re-entered the category with its Georgia brand. Its marketing has improved the brand image and the product's visibility. Nestlé's Nescafé, a strong category leader, hired Chinese actress Angela baby for TV advertisements, which boosted sales. Starbucks and Ting Hsin (PepsiCo's local distributor and bottler) agreed to jointly produce and distribute RTD coffee.
Suntory and Hui Yuan also set up a joint venture to market RTD coffee and RTD tea. In 2015, Hui Yuan was the largest local player in off-trade volume sales terms.
In terms of flavor, the most popular one is latte, accounting for over 54 percent of off-trade volume sales in 2015.
Freshly brewed coffee at specialist shops is tempting consumers to seek the same pleasure at home. So, they are investing in expensive coffee pods. Some buy one during their overseas trips while overseas versions of local e-commerce websites sell imported machines. A typical home espresso machine could cost upwards of 1,500 yuan. Retail sales of such appliances surged in 2015.
Nestlé dominates the segment of pods with its Nespresso and Dolce Gusto series. The Lavazza range earned some market share in 2015. Pod sales are expected to account for over half of fresh ground coffee sales by 2020, suggesting that some consumers may choose to "leapfrog or skip" the standard format and directly trade up to pods.
In the wider consumer market, this is not uncommon. For example, Chinese consumers migrated to mobile phones despite very limited availability of land lines. So, Nestlé is planning to launch new products to meet local Chinese consumers' needs, such as chocolate milk tea.
Paul Bulcke, CEO of Nestlé Group, said the company is targeting long-term growth in the country. "China as a key market holds an important position in our global strategic development plan."
The company invested 50 million yuan in setting up the Nescafé Coffee Center to promote the development of China's coffee industry.
Despite Nestlé's dominance, it was You Ji Jia (Shanghai) Food Trading Co Ltd that posted the strongest sales growth in 2015, underpinned by specialty coffee mixes, including instant cappuccino and café latte.
Instant coffee is, and will continue to be, the mainstay of the coffee market in China through 2020, according to Euromonitor International.