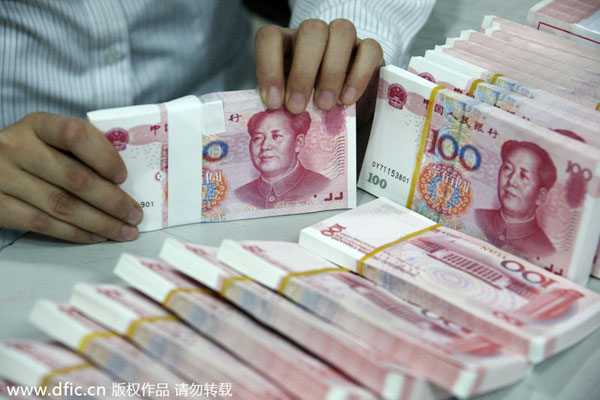 A clerk counts yuan bills at a bank in Huaibei, East China's Anhui province. [Photo/IC]
April headline credit data was weaker than expected, but China's overall credit growth nonetheless remained strong.
Total social financing (TSF) outstanding, excluding equity, moderated from 13.1 percent year-on-year previously to 12.8 percent. However adjusted for local government bonds which hit a record monthly high of 1 trillion yuan ($153.4 billion) (new TSF doesn't include local government bond issuance, most of which was used to swap out with existing debt that were included in TSF), overall credit growth actually rose to 17 percent from a year earlier, even higher than March's 16.6 percent.
As a result, China's overall credit growth exceeded the implied official annual target. On a sequential basis, our adjusted overall credit impulse rose further from 36 percent of GDP previously to 37.5 percent on a 3mma (three-month moving average) basis, its strongest pace since 2011.
The headline disappointment combined with the earlier interview with the "person with authority" may trigger some investor concern that the government has started to tighten credit policy. But adjusted for local debt swap, it shows that while the authorities may try to prevent a runaway credit growth, credit has not been really tightened.
New loans declined visibly partly due to seasonal factors
New yuan loans were less than expected at 556 billion yuan, less than half of March's strong 1.37 trillion yuan. Excluding a modest contraction in non-bank financial institutions' loans, new yuan loans to the real economy (within TSF) reached 564 billion yuan, visibly lower than the previous month and a year ago.
In particular, household short-term loans dropped by 6 billion yuan, as household medium & long term (M&L) new loans remained robust at 428 billion yuan, likely thanks to the continued strength of property sales.
However, corporate M&L loans contracted by a record 43 billion yuan, alongside a 93 billion yuan decline of short-term corporate loans. In contrast, corporate bill financing rose by 239 billion yuan, much stronger on both a month-on-month and year-on-year basis.
New TSF fell on weak yuan loans, undiscounted bills and corporate bonds
New TSF recorded a surprisingly low reading of 751 billion yuan, much weaker than expectations. Weakness in yuan loans, corporate bonds and undiscounted bills were mainly to blame, in sharp contrast to their performance in March. In particular, new corporate bonds slid to 210 billion yuan on the back of recent onshore bond market volatility and weaker market confidence.
M2 growth moderated as M1 growth accelerated further.
M2 growth moderated by 0.6 percentage point to 12.8 percent year-on-year in April, as new yuan loan and TSF eased and financial institutions' investment activity softened. However, M1 continued to pick up to 22.9 percent year-on-year (70-month high).
This may be attributed to: 1) the lifting of corporate demand deposits by rebounding economic activity, stronger fixed asset investment, and credit support from policy banks; 2) institutions' demand deposits boosted by April's very strong pace of local government debt swaps.
Policy easing momentum peaked, credit expansion pace to normalize
April's headline credit expansion slowed on seasonal factors and policy normalization, although overall credit growth edged up.
Looking forward, given the recent policy signals, such strong credit impulse suggests that policy easing momentum has likely peaked, as the government re-emphasize the need to control financial risks and push forward with structural reforms.
Headline loan and TSF growth may moderate slightly in the next couple months, but stay largely stable for the rest of this year. On balance, Chinese credit policy will likely resume a more normalized pace going forwards but remain accommodative to support growth and facilitate structural reforms, even if its easing momentum has already peaked.
The authors are UBS economists. The views do not necessarily reflect those of China Daily.