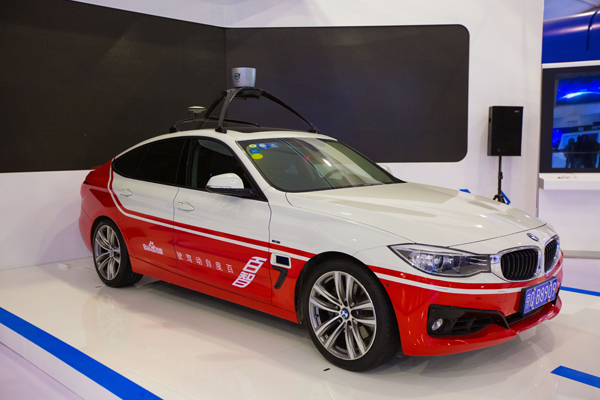 Baidu's driverless car on display at the 2nd World Internet Conference in Wuzhen, East China's Zhejiang province, Dec 14, 2015 [Photo/VCG]
The Chinese tech giant Baidu Inc and Wuhu city of East China's Anhui province signed an agreement on Monday to jointly build an exclusive pilot area for driverless vehicles in the city.
In the next one to three years, an area where there is less population and building will allow certain types of driverless public vehicles to run on the roads built for experiment purposes.
The first driverless bus route, about two-kilometers-long from the local car maker Chery Auto's plant to its R&D center, will be available for road tests in June, with buses made by the automaker, according to Zhang Dong, deputy secretary-general of the Wuhu municipal government.
In the test period, for-substitute human drivers will still be needed, while they will not operate the vehicles unless technical breakdown is reported.
Two models of electric cars developed jointly by Baidu and Chery will also be ready for road tests soon.
The pilot area will be gradually expanded in the next five years and eventually passengers will be allowed, according to Zhang.
Baidu announced in April that it will choose 10 cities across the country to try out driverless cars this year. The company aims to commercialize the driverless technology in three years and to achieve mass production of the cars in five years.