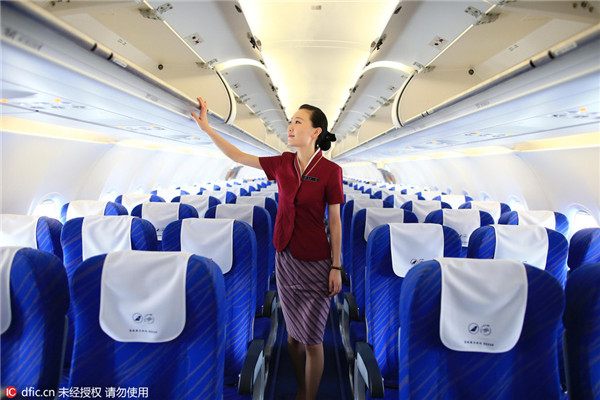 A female Chinese attendant checks luggage compartments to prepare for a flight onboard a passenger jet of China Southern Airlines at Haikou Meilan International Airport in Haikou city, South China's Hainan province, June 12 2014.[Photo/IC]
China's HNA Group Co, the country's fourth-largest airline, is in exclusive talks with CWT Ltd, a listed Singaporean logistics firm, to buy a controlling stake worth around $1 billion.
CWT said on Monday that its controlling shareholders, the founders of the group, who own more than 30 percent of the equity, are discussing with the Chinese conglomerate on selling the company's equity. There is no certainty that the negotiations will result in a definitive transaction, according to the company's announcement.
The negotiations between HNA and CWT shareholders have been ongoing for several months, and are now close to a conclusion.
According to Singaporean regulations, if the acquisition of a company reaches more than 30 percent of its equity, it will trigger a mandatory purchase of the entire firm.
Shanghai-listed HNA Group said it is inconvenient to comment now as the project is under negotiation. It will make an announcement if there are further developments.
Shares of HNA Group stayed flat on Monday, and closed at 3.40 yuan (52 cents), following its surging performance last week.
The move is part of the ongoing trend of HNA Group acquiring overseas equities to recombine and step up its domestic and global expansion.
The deal would add to a string of overseas acquisitions of privately owned HNA Group, whose assets are now valued at more than 600 billion yuan.
HNA recently agreed to buy Swiss airline catering firm Gategroup Holding AG for $1.5 billion in cash. This February, it bought US-listed electronics distributor Ingram Micro Inc for $6 billion.
In April, HNA agreed to acquire Minnesota-based Carlson Hotel Group, one of the largest in the world and the owner of the Radisson and Country Inns & Suites chains.
Li Xiaojin, a professor at Civil Aviation University, said: "One of the reasons that the government proposed the Belt and Road Initiative is to find outlets for domestic overcapacity. As an important node of the route, Singapore has its advantages and deserves attention."
Singaporean logistics companies are very competitive. They combine the advantages of the Western market, including international experience and advanced regulations, as well as the advantages of Eastern culture, which makes it easy to cooperate with Chinese companies, Li said.
"As a diversified enterprise, logistics is one of the largest sectors at HNA Group. Now the group mainly covers logistics around Southeast Asia, so acquiring the Singaporean company will help HNA expand its global logistics coverage," Li said.