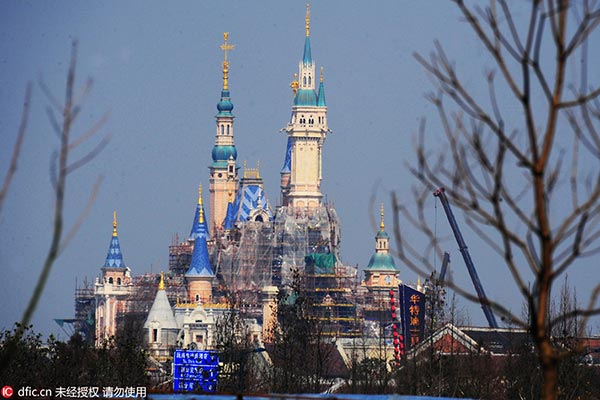 The castle is under construction at the Shanghai Disney Resort Shanghai, February 27, 2016. [Photo/IC]
Scalpers are cashing in on the huge demand for admission on the opening day of the Shanghai Disneyland park on June 16 by asking several thousand yuan for a ticket.
Customers snapped up the first tickets issued for the opening day in just five minutes on March 28, temporarily crashing the website. Some who failed to secure tickets turned to scalpers.
The park offers regular and peak-priced tickets, with regular ones costing 370 yuan ($57) and peak ones for high-demand dates selling for 499 yuan. Admission will be 499 yuan during the grand opening period from June 16 to 30.
Vendors on Alibaba Group's e-commerce platform Taobao and the micro-blogging website Sina Weibo are selling tickets for the opening day for more than 1,000 yuan, with some even costing 3,899 yuan, according to media reports.
A scalper from Shanghai, named "Li Zhenwei" on Alibaba's secondhand goods trading platform, is selling tickets for June 16 for 999 yuan, claiming to have bought 10 tickets with his wife from Alitrip, one of Disney's authorized ticket-selling websites.
Another scalper at Taobao.com is selling tickets for June 16 to 30 for 580 yuan.
Shanghai Disney Resort said, "We take various measures to prevent ticket scalping and the sale of fraudulent tickets....Guests should only purchase tickets from authorized official channels."
Measures have been taken to combat scalping at the Shanghai park. For instance, tourists can buy a maximum of five tickets by giving an ID card number and must enter the park with their ticket confirmation and the identification document used to buy the tickets.
When entering the park, the holder of the identification document should do so with everyone in the group.
Liu Simin, deputy director of the China Society for Future Tourism Studies, said it is not surprising that scalpers have entered the market in view of the demand, adding that this also indicates that demand is strong among tourists.
Wang Zhuoqiong contributed to the story.