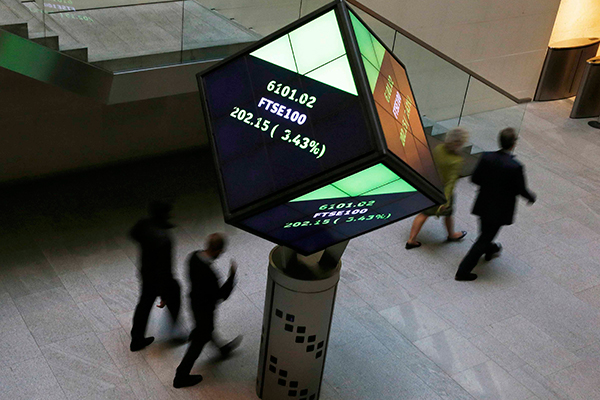 People walk through the lobby of the London Stock Exchange in London, UK, August 25, 2015. [Photo/Agencies]
LONDON - FTSE Russell, the global index provider, announced the creation of a new index that combines the FTSE China A and H 50 Index, on Wednesday.
It is the first FTSE Russell index to represent the largest companies listed in both the Chinese mainland (A shares) and/or Hong Kong (H shares).
The index has been licensed by Deutsche Bank for Exchange Traded Funds (ETFs) listed on London Stock Exchange and Deutsche Boerse AG.
The FTSE China A-H 50 Index consists of A shares and H shares, but only one share class will be selected to represent each company. The selection process will take place at each quarterly review.
For companies with only an A share listing, the A shares will be selected for index inclusion. For companies with a listing of both A shares and H shares, the share class with the lower price will be selected for inclusion.
Mark Makepeace, CEO of FTSE Russell said: "FTSE Russell has a long track record of working in China, and is the most active benchmark provider supporting international investment in the region."
"As the Chinese domestic market opens, we continue to develop products that provide investors with a variety of tools to capture different aspects of the market. The FTSE China A-H 50 Index reflects our desire to create new index solutions for the region, as we look to support the diverse range of investment needs," said Makepeace.
FTSE Russell is a global index provider that provides innovative benchmarking, analytics and data solutions for investors worldwide. FTSE Russell calculates thousands of indexes that measure and benchmark markets and asset classes in more than 70 countries, covering 98 percent of the investable market globally.