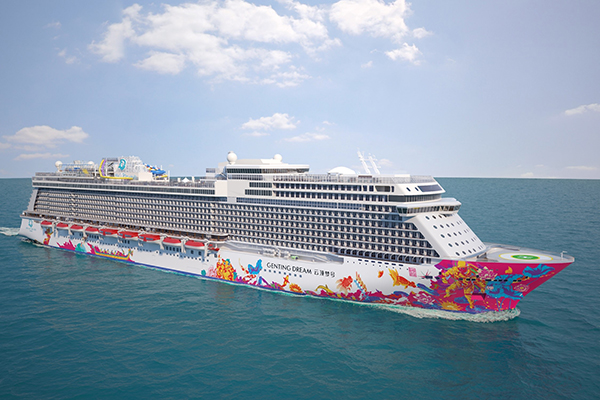 The Genting Dream. [Photo provided to China Daily]
Genting Hong Kong Ltd, the global leisure, entertainment and hospitality corporation, has announced details of its maiden cruises, designed specifically for high-spending Chinese travelers.
Its inaugural ship to operate out of China, the Genting Dream, is set to sail in November from its homeport of Guangzhou (Nansha Port), according to Thatcher Brown, president of the company's Dream Cruises brand.
The ship will offer two- to five-night cruises to Hong Kong, Da Nang and Halong Bay in Vietnam, as well as Sanya in Hainan province.
Its sister ship, the World Dream, will begin operations in late 2017, he said.
According to the China Cruises and Yacht Industry Association, the country's 10 major ports handled 629 cruise ships in 2015, a 35 percent annual increase, with about 1.24 million Chinese cruise passengers traveling overseas.
The potentially huge Chinese cruise-ship market has already attracted an increasing number of luxury foreign operators, including British/American-owned Italian cruise line Costa Cruises and Royal Caribbean International, which have both expanded their local offerings in recent years.
Genting Hong Kong established its first brand Star Cruises in 1993, and has built a strong reputation for top-class Asian hospitality.
Its expansion plans in Chinese mainland include further moves into Xiamen, Fujian province, and a base in Sanya, offering services geared specifically to appeal to Chinese travelers, said Brown.
The Hong Kong and Singapore-listed firm bought Crystal Cruises, which has been dubbed by some the world's most-awarded luxury cruise line, in May last year and now plans rapid expansion over the next three years, he said.
Edie Rodriguez, president and chief executive officer of Crystal Cruises, added: "As wealthy travelers from China emerge as the dominant force in the travel industry, we see great opportunities in delivering them our luxury services."
Her firm's expansion plans include various new classes of vessel including yachts and river boats, and offering ocean/flight travel combinations.
"We are extremely happy more wealthy Chinese people are taking cruises," said Rodriguez.
She said Crystal Cruises expects its share of Chinese travelers to double from 2 percent in 2015 to 4 percent this year, describing the Chinese market as key to its future growth as more wealthy people emerge in the country.
"It has been wonderful to witness the excitement and enthusiasm from our China travel partners for Crystal's expansion in luxury travel and hospitality," she said.