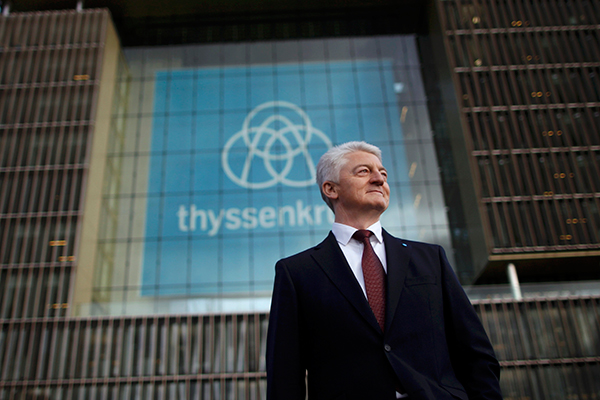 Heinrich Hiesinger, CEO of Thyssenkrupp poses for the media in front of the company's headquarters, adorned with the new company logo, before the annual news conference in Essen, Germany, November 19, 2015. [Photo/Agencies]
Thyssenkrupp Elevator, a subsidiary of the German conglomerate thyssenkrupp AG, has opened its China headquarters in Shanghai, marking its latest investment in the country.
The 15,000-square-meter, 40-meter-high block was built in the Songjiang district at a cost of 120 million yuan ($18.5 million). It showcases the company's latest elevators, escalators, moving walkways and TWIN elevators.
"China is by far our most important market in Asia," said Heinrich Hiesinger, chairman of the executive board of thyssenkrupp AG, after Wednesday's opening.
"In the past five years, thyssenkrupp has invested more than $558 million to further grow our various businesses in China, and our elevator business is a very important part of these investments," he said.
Thyssenkrupp Elevator entered the Chinese mainland more than two decades ago. It currently employs almost 10,000 people at 68 branches and 132 offices in the mainland.
In 2011, the company launched its Sanfte brand of elevators, aimed at the local market.
"We're trying to set up a larger platform to listen to the demand of consumers to come up with more localized products offering high speed, comfort and safety," said Jurgen Bohler, chief executive officer of thyssenkrupp Elevator in China.
The company began building its new Zhongshan elevator plant and test tower in Guangdong province in 2015 with a total investment of 450 million yuan.
Upon completion, the plant will cover an area of nearly 100,000 square meters and include a world-class 248-meter test tower, which will support the development of high-end elevators for the global and local markets.
Additional innovations and technologies will be introduced into China to support urbanization.
The TWIN elevator at its headquarters is one example of thyssenkrupp's innovative power. Operating two cars independently in the same shaft, the TWIN elevator can take passengers to two different floors at the same time, thus saving waiting time.
It also comes with the company's intelligent destination-selection control system, which reduces the number of stops each elevator makes and includes functions such as VIP or emergency call overrides for immediate access.
"The company is making great efforts to create unique and efficient urban mobility solutions to address the demands from China's urban development. We have the innovations to face the upcoming needs of existing and future megacities," said Andreas Schierenbeck, chairman of the executive board of thyssenkrupp Elevator.
In addition, the company is also purchasing an additional 10,000 square meters of land adjacent to its Songjiang factory where it will build a new electrical workshop and logistics center.
"We will continue to grow and develop together with our valued partners to make urban life more convenient and efficient. In the future, thyssenkrupp will significantly contribute to place urban life in China among the best in the world," said Bohler.