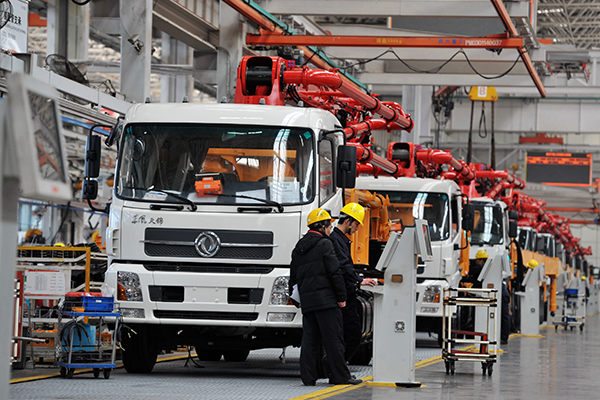 Sany Group technicians assemble engineering machinery in the firm's assembly plant in Changsha, Hunan province. [Photo/Xinhua]
Sany Group, one of China's largest heavy-construction equipment manufacturers, plans to install 80- to 100-megawatts of distributed solar-energy capacity in the first half of this year, as it accelerates its drive into the photovoltaic industry, according to a top executive of the group.
Cheng Weihua, head of the company's photovoltaic equipment division, told China Daily the company now views the increased use of clean energy as inevitable, and that solar energy particularly, with its incomparable accessibility, has become a major part of Sany's product portfolio.
Sany has already incorporated 3.8 mW of distributed photovoltaic power capacity into the regional grid in the Nankou Industrial Park, its manufacturing base in Beijing.
The company supplied more than 100,000 kilowatt hours of solar power into the grid in the past week, 10 percent higher than expected, Cheng said.
Distributed solar-energy systems consists of small-capacity generators installed near their users. They are normally incorporated into power grids supplying less than 35 kilovolts of electricity.
Their appeal to users lies in their efficiency in energy distribution, and that they can be closely monitored.
"We believe that in the future, everyone will be both a consumer and producer of clean energy, instead of customers having to rely on one energy supplier," said Cheng.
"The shorter the distance between supplier and consumer, the higher the efficiency becomes."
The group plans to expand its building of distributed solar-energy systems for customers, suppliers and dealers at home in China, and now also plans to introduce solar power at its own factory in India, on a trial basis.
"Compared with Sany's first venture into construction machinery in 1993, the transformation going on at the moment into solar and other types of clean energy is even more challenging," Liang Wengen, Sany's chairman, told the company's board meeting in February.
Liang said then that its clean-energy portfolio will focus on three sectors: Equipment manufacturing, new-energy development, and investment.
The company has already become competitive in wind power.
In the first half of last year, Sany sold wind-power equipment capable of generating 1 million kilowatts of power, double its orders in 2014.
Unlike its wind-power activities, for which it has created a mature industrial chain from manufacturing to operation, its photovoltaic business is still relatively small, however.
"There are many mature manufacturers with highly sophisticated technologies already in the industry. That's why we have begun by investing in smaller power units, and are now increasing our size and efficiency," said Cheng.