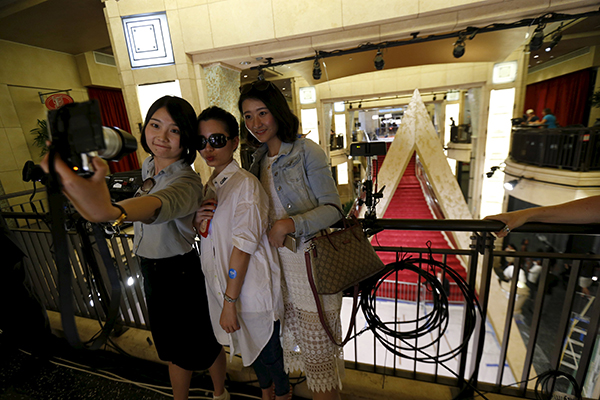 A group of Chinese tourists takes a selfie in front of the staircase leading into the Dolby Theater during preparations leading up to the 88th Academy Awards in Hollywood, California February 27, 2016. [Photo/Agencies]
The Chinese urge to travel overseas is spreading deeper into the second- and third-tier cities, according to industry experts, with more firms now wooing customers with customized and cheaper packages.
Online travel service platform Mafengwo, for instance, has been targeting cities including Hunan province's capital city Changsha, Wuhan, the capital of Hubei province, Zhengzhou, capital of Henan province, and Chengdu, the provincial capital of Sichuan.
The upcoming Qingming festival (April 4), the May Day holiday, and the summer are all prime times for travel companies.
On March 15 to 18, Mafengwo is to offer a series of "four-days-only" promotions, including trips from Changsha to the United States for 2,599 yuan ($400), a package from Chengdu to Nha Trang in Vietnam for 1,999 yuan, and a return ticket from Tianjin to Osaka in Japan for just 999 yuan.
"It is becoming more apparent that people from China's smaller cities are catching up quickly in venturing abroad as their incomes rise," said Jin Peng, Mafengwo's product manager of independent travel packages.
"Many travel agencies from across the world are also starting to tap into the trend by wooing Chinese visitors from smaller cities directly with more promotions, convenient flights and simplified visa applications, while budget airlines are also opening up routes from across the globe to the Chinese smaller cities."
The company's promotion includes 100 destinations in Japan, South Korea, as well as countries in Southeastern Asia, the US and Europe, with various travel options like flight plus hotel, visa application, local leisure activities and cruises.
Jiang Yiyi, a researcher from the China Tourism Academy, said outbound tourism was no longer a privilege of the rich, and expects the lower-tier cities to continue contributing higher shares of bookings.
According to the recent Market Research Report on Chinese Outbound Tourist Consumption released by the Beijing-based World Tourism Cities Federation, China will continue to see an increasing number of trips being made by its citizens abroad, and increased levels of spending.