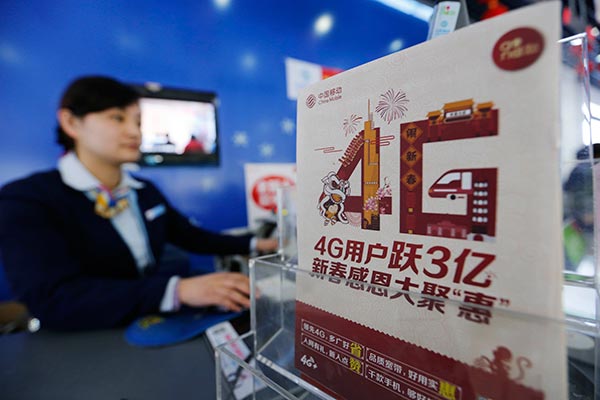 A China Mobile Ltd employee at a branch in Lianyungang, Jiangsu province.[SI WEI / FOR CHINA DAILY]
Nation's top telecom carrier's net profit declines 0.6% in 2015 due to impact of increased investment, competition
China Mobile Ltd, the world's top mobile telecom carrier by subscribers, said on Thursday its net profit declined 0.6 percent last year, as hefty investments in 4G networks and mounting competition dragged down profitability.
The company said in a filing that net profit for 2015 fell to 108.5 billion yuan ($16.7 billion), lower than the 112.8 billion yuan average of analysts' estimates compiled by Bloomberg.
Its revenue rose 2.6 percent to 668.3 billion yuan, but revenue derived from data services exceeded those from voice calls and text for the first time, as customers increasingly favor Internet-based messaging services such as Tencent Holdings Ltd's WeChat.
Shang Bing, chairman of China Mobile, said: "4G will be the top priority for 2016. We will try to expand our edge in 4G to further boost data service's role in generating revenues."
The carrier's shares dropped 2.08 percent to HK$84.55 ($10.9) in Hong Kong on Thursday
The news came a day after smaller rival China Unicom Hong Kong Ltd announced its net profit fell 12 percent to 10.56 billion yuan in 2015, the first decline since 2010. The two companies are in a fierce race to win 4G users.
Xiang Ligang, founder of the telecom industry website cctime.com, said China's telecom carriers are under mounting financial pressure.
"Data services are playing an increasingly greater role in generating revenues. But the government has requested telecom carriers to cut charges for Internet services."
Telecom carriers rolled out plans that allow users to carry over unused data capacity from one month to the next in response to government request for lower mobile phone tariffs.
"Offering the best 4G services is the only way for telecom carriers to boost their profits in the next three to five year," Xiang said.
As of December 2015, China Mobile had 1.1 million 4G base stations and its 4G subscribers exceeded 300 million, more than China Unicom and China Telecom Corp Ltd combined.
But the two smaller rivals are catching up. China Unicom and China Telecom inked a deal in October to share 4G resources and jointly construct 4G base stations.
Peter Liu, research director at Internet consultancy Gartner Inc, said the cooperation is already having an impact as the two companies witnessed a surge in 4G subscribers in January.
"But I remain cautious as to whether they can narrow the gap with China Mobile. It will depend on how deeply they can partner with each other. After all, it is never easy to have two former enemies in one boat."
Reuters contributed to this story.