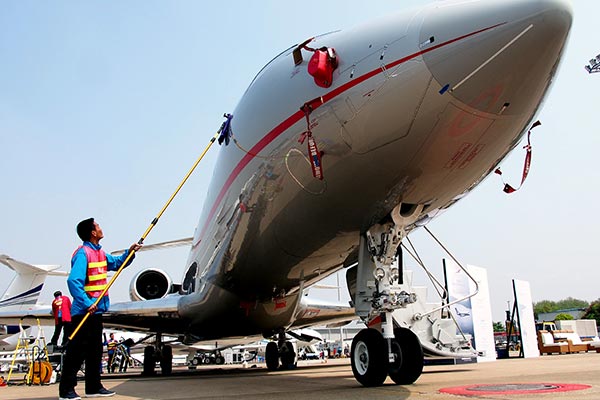 Workers clean planes taking part in an industry expo at Shanghai's Hongqiao Airport.[Photo/Xinhua]
The man who tracks the wealth of China's high-net-worth individuals believes the government's plan to build scores of new airports in the next five years will boost the country's business aviation sector.
"It's brilliant news, and will help growth substantially," said Rupert Hoogewerf, publisher of the Hurun Report featuring China and global rich lists.
"The number of airports in China is very limited compared with countries where private aircraft ownership is high," he said in a telephone interview from Shanghai, where business aviation leaders will be gathering next month for a major conference.
Hoogewerf spoke to China Daily last week after a draft document for the country's 13th Five-Year Plan (2016-20) submitted to the national legislature, pledged to build more than 50 new civilian airports by 2020.
The lack of airports has long been cited as a factor holding back growth in business aircraft ownership in China.
Hoogewerf's latest list of the superrich, released last month, showed that China has the largest number of billionaires in the world at 568, compared to 535 in the United States.
But the number of business aircraft in the country remains relatively low, around 400 at the beginning of 2015, industry figures show.
By comparison, there are about 15,000 owners of 17,000 business aircraft in the US, according to the Washington-based National Business Aviation Association.
The US also has the most airports-more than 19,000 at the end of 2014, a majority of them designated for civilian use. China has only a few hundred airports open to civilian use.
Hoogewerf noted there are other factors as well, affecting the pace of growth in China.
"One is the rules covering business aircraft operation.
"If you register onshore, you have to pay a 25 percent tax. If you register offshore, you've to follow a lot of complicated rules to operate the aircraft within China," he said.
"Another is that not all billionaires are cash-rich at the moment because of the stock market performance."
Despite that he and others are optimistic about the market potential.
"We are confident that business aviation in Asia and China will continue to grow, perhaps at a slower pace, but still growing," said Charlie Mularski, chairman of the Hong Kong-based Asian Business Aviation Association.
Most major players in the Chinese market including Airbus SAS, The Boeing Co, Gulfstream Aerospace Corp and Embraer SA, are equally optimistic.
"China is one of the largest growth markets in the world today, both for airlines and business jets, and Airbus sees it as an important market for its corporate jets in the coming years," said David Velupillai, marketing director at Airbus Corporate Jets.
Growing business in China will be high on the agenda when delegates from around the world meet in Shanghai for the Asian Business Aviation Conference and Exhibition, April 12 through 14. Some 40 aircraft will be on show at ABACE 2016.