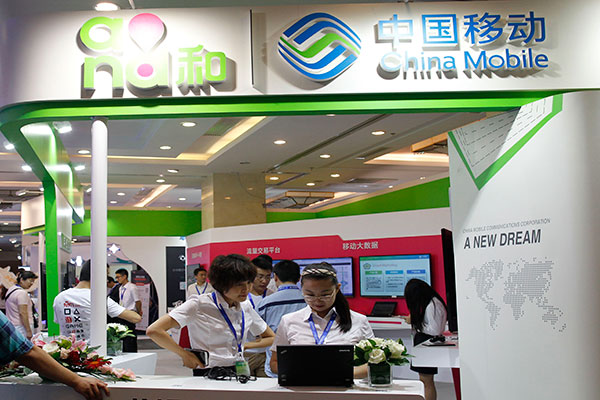 The booth of China Mobile Communications Corp at an Internet expo in Beijing. The nation's largest telecom carrier will cut salaries for its top brass. [Photo/China Daily]
China Mobile Communications Corp, the nation's largest telecom carrier, said on Thursday that it was implementing salary cuts for its top brass, amid mounting pressure to provide better services at lower prices.
The telecom carrier said it has already restructured the salaries of its high-ranking employees and plans to extend it across the whole group.
The company's response comes after a report in Caijing magazine said that department managers at China Mobile may see their annual salaries cut by as much as 50 percent, while senior executives at provincial branches may see reductions of 40 percent.
The Beijing-based financial news service provider said the plan was unveiled during the company's half-yearly conference and would extend to middle-ranking employees whose salaries will be slashed by 20 percent.
"We will not cut salaries for all employees. Instead, we will follow the rule of matching pay with work performances and direct more money to front-line workers," the company said in a statement.
The cutback comes a day after the industry regulator urged China's telecom carriers to reduce overseas roaming rates and allow users to carry forward unused monthly data allowance. The two businesses account for a significant proportion of the revenues for telecom carriers.
This has put more financial burden on China Mobile which is wrestling with declining profits. During the first three months of the year, the company's profit declined by 5.6 percent to 23.8 billion yuan ($3.8 billion), after annual profit in 2014 fell by about 10 percent.
The huge pay cut plan has also triggered concerns that top talent may leave the company. However, a China Mobile employee, who did not want to be named, said the move will have a limited impact. "After all, salary is only a small source of income for top executives."
The employee said that starting this year, China Mobile has canceled travel allowances and quarterly compensations for all employees. "This takes away almost 20,000 yuan from my annual income," the employee said.
The limited-salary plan in China Mobile is also part of broad efforts to ease the public outcry over the pay gap between executives and ordinary workers in State-owned enterprises.
In January, the State-owned Assets Supervision & Administration Commission asked all SOEs to limit salaries of senior executives to within 8,000 yuan per month, half of their previous pay.
Ma Si contributed to this story