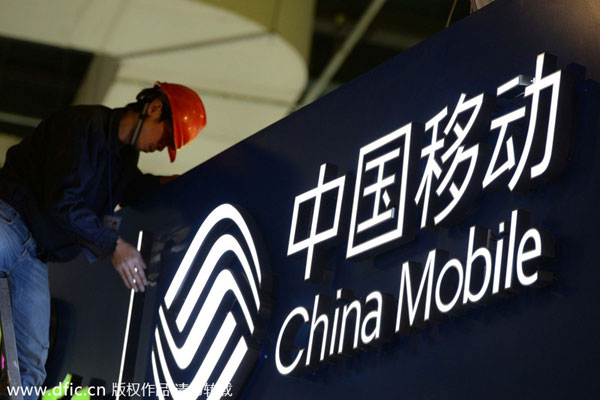 A Chinese worker installs a signboard of China Mobile one day before the opening of the 2nd China (Shanghai) International Technology Fair (CSITF) in Shanghai, April 23, 2014. [Photo/IC]
BEIJING -- Telecom giant China Mobile's net profit dipped 0.8 percent to 57.3 billion yuan (about $9 billion) in the first six months of the year as it faced fierce competition, it said on Thursday.
Revenue was up 4.9 percent to 340.7 billion yuan, while its subscriber base rose to more than 810 million, up 3.4 percent, including 190 million 4G users, the company said in a filing to the Hong Kong bourse, where it is listed.
The interim dividend will be HK$1.525 ($0.2) per share.
The Beijing-based company said it is "facing severe challenges from intensified competition". In the face of this, it will continue to bolster 4G business and try to expand its market share in daily services for individual customers and enterprises, according to the filing.
China Mobile's 4G business is rapidly expanding, said the company, which now has 940,000 base stations in place, covering almost all cities nationwide.
Its shares closed at HK$98.2, down 0.3 percent, while the benchmark Hang Seng Index closed down 1.8 percent.