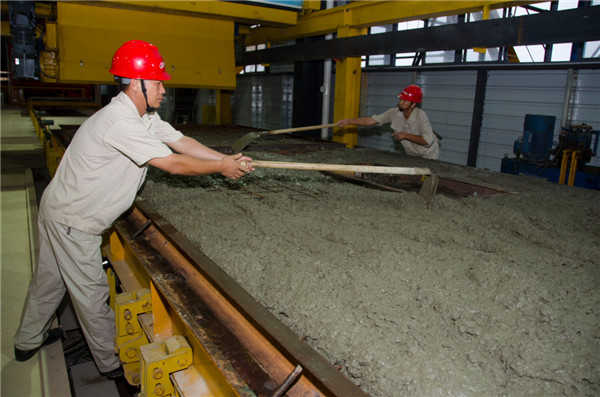 Workers of Broad Homes prepare building materials for precast residential houses in Suriname.Provided to CHINA DAILY
Broad Homes is going big with its precast structures, design, consulting in countries like Suriname, Brazil
For many private-sector Chinese companies, South America offers a wealth of growth opportunities amid a less competitive atmosphere, as housing firm Broad Homes Industrial International Co Ltd is realizing.
Broad Homes, a subsidiary of Hunan-based Broad Homes Industrial Co Ltd, will supply 18,000 precast residential houses to Suriname this year. It also plans to deploy more resources and manpower in South American countries such as Brazil, Venezuela and Colombia over the next three years, to diversify its global sales platform.
As living standards improve across the continent, more and more South Americans desire to own homes, hence the steady demand for real estate. "Clients want their houses to reflect their lifestyle changes," said Tang Fen, president of Broad Homes.
For more than two decades, the company has been a specialist in pre-fabricated concrete structures like residential buildings, commercial buildings, public facilities, industrial facilities and infrastructure. Its operations span South America and members of the Association of Southeast Asian Nations, including Indonesia and Laos.
Tang said growth opportunities abound in South America's surging demand for housing infrastructure projects, especially in fast-growing markets such as Suriname, Guyana and Brazil where focus is on sustainable development amid urbanization and industrialization.
Broad Homes invested $20 million on a plant in Suriname in 2014. Supported by more than 200 Chinese and local employees, the factory's total production capacity has reached 200,000 square meters per year.
Its Suriname project involves building 18,000 precast residential units in coastal cities and towns.
As per the agreement between Broad Homes and the Surinamese authorities, 65 percent of these precast houses will be bought by Suriname to provide low-cost homes to financially weaker sections of the local society. The rest 35 percent will be sold as commercial properties, which is expected to help develop the local real estate sector.
Compared with China, the housing construction business in many South American countries is unusual in that contractors are required to deliver the houses to clients much earlier than anywhere else. Strict quality checks are carried out by a number of government branches, usually over a period of two months, putting enormous pressure on contractors' cash flow.
"Therefore, building partnerships with local businesses to resolve issues related to logistics, customs clearance and building materials, is an effective way to reduce financial risk in a new market. Our local dealers are familiar with both the market environment and the demand of clients," said Tang. "We both (the company and its partners) are out to make a profit, and they (the government agencies) want a return on their outlay as soon as possible."
In South America, Broad Homes also offers technical services and consulting related to precast concrete manufacturing and construction, and technical support for the whole life cycle of construction projects.
Tang said even though there are a lot of competitors from the United States, Spain, Portugal, Lebanon and India, "we have the right recipe, and the main selling point is price".