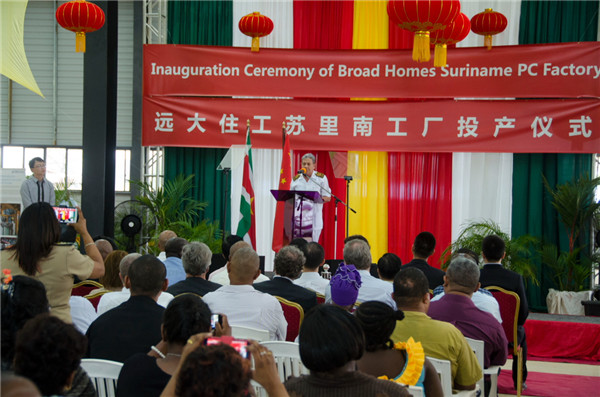 A local official gives a speech at the inauguration ceremony of Broad Homes' new factory in Suriname in March 2015. Provided to CHINA DAILY
Quality of the company-built houses, she claimed, is good, and the cost per house has been kept low. "Localization is really what the South American markets want."
The main difference between Broad Homes and its competitors, she said, is the way "we gauge and tap potential demand. By offering interior decoration and gardening services, we have been able to leapfrog our rivals and forge strong bonds with local clients".
Jiang Jie, general manager of Broad Homes International Co Ltd, said the company's interior decoration services rely heavily on design tips borrowed from Chinese architecture, such as hollowing-out for better use of space, use of power-saving appliances and furniture with better functionality and style for commercial houses.
"We have a design team in China and also one in Brazil. A design will be exchanged and modified many times to meet local demand and add practical Chinese aspects. In most cases, our innovation has been accepted readily by local clients," said Jiang.
Tang said that the company will need to tweak its long-term strategies to stay profitable in the continent. Broad Homes plans to move away from small projects toward urban development and large community projects over the next decade.
"Even though the housing market in South America is slowly returning to normal, there are still risks like currency fluctuations, higher operating costs and weak industrial facilities, said Zhao Ying, a researcher at the Institute of Industrial Economics of the Chinese Academy of Social Sciences in Beijing.
"But the silver lining has been the buoyant local demand, which we expect will provide the right cushion for sustained growth," said Zhao.
Zhao said acquiring a local brand is a practical strategy for Chinese businesses entering South America because locals "are willing to buy established brands, which makes them comfortable".
Eager to enhance its earning ability, Broad Homes also plans to build a new plant in Nigeria this year and is also looking for business partners in West Asia and Brazil, to build a joint venture factory over the next three years.