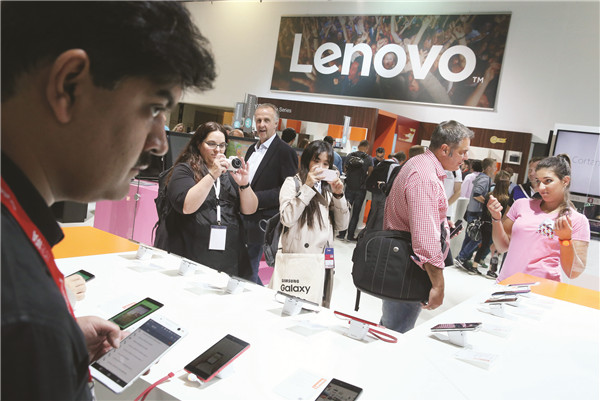 Visitors check out smartphones and other gadgets at the Lenovo stand at the 2015 IFA consumer electronics and appliances trade fair on Sept 4, 2015 in Berlin.SEAN GALLUP/GETTY IMAGES
As Chinese companies ramp up their presence on the international stage with a string of headline-grabbing acquisitions catapulting them to global fame, some experts urge caution: Most still cannot be called true multinationals.
"I think there are a small number of Chinese companies that are already global companies, but it is a very small number, like Lenovo and Huawei," said Stephen Phillips, chief executive of the China-Britain Business Council.
"Some Chinese banks have a very significant international presence as well, but they mostly serve the Chinese customer base, rather than serve the international customer base, so they are only part of the way to becoming truly global in my view."
Despite many State-owned enterprises that have an international presence and private sector companies that are beginning to internationalize quite rapidly, there are very few that are globally recognized.
"But it is changing really quickly, much more quickly than probably any other country," he said.
Phillips said the world will continue to see more and more Chinese companies internationalizing, and they need to do it for at least two reasons: one is to diversify markets and the other is, if they genuinely want to be leaders in that field, they need to be exposed to global competition, whether in services or products, and by going outside the home market and competing with the best of the world.
"If companies manage that in that process, both accessing new markets and moving up the value curve, then they are going to be very successful, but not all of them will succeed. It is not easy, it is very competitive."
Zhang Yang, a senior consultant with Spencer Stuart, a leading executive search and leadership consultancy, said that increasing overseas assets and income are only partial parameters of internationalization.
"If a company just invests in cheap resources overseas and then makes profit out of it, it is not truly internationalization, because they may not be a global company that adopts international standards and rules."
She said international companies have different strategies and targets for different markets, and operate globally. Their management systems, governance and diverse talent would be important measuring standards. But if Chinese companies are gauged by these aspects, most of them would get low grades.
She cited talent as an example. In many multinational companies, about 20 to 40 percent of the senior executive positions are held by talent sought globally, but in Chinese companies, the percentage is usually quite low: less than 10 percent.
Qiao Jian, vice-president of the world's largest personal computer maker, Lenovo Group, said that globalization is not just products or capital going global, but a global enterprise's culture and leadership are key, which is what she learned from Lenovo's failed experiences in the past.
She said that in the first four to five years after Lenovo acquired the personal computer business of IBM, its business met great setbacks.
"When we reflect on it, at that time, we paid a lot of attention to products and strategy, but ignored the culture and leadership components," she said. "Managing people from different countries is not merely relying on policies and regulations but more about winning recognition from local customers, executives and employees culturally, so that we do business holding the same values."
She said since 2008, Lenovo has made great efforts in global enterprise culture building, and its revenue is 15 times that of 10 years ago.
Sun Yongfu, former head of the department of European affairs in the Ministry of Commerce, said that a company's ability to integrate with the cultural and social environment in a given country is an important part of successful internationalization.
"We have seen many unsuccessful cases of Chinese companies going global, and the key is the differences in cultures, standards and concepts between the home country and the destination countries," he said.
"We are used to some ways of operating in China and would bring them to Europe and other parts of the world, but their culture, traditions and laws are quite different from us," he says. For example, Chinese employees would work overtime to get double pay, but Europeans might not hold the same view, he said.
He said that Chinese companies should be able to adopt the destination country's ways of operating and managing companies.
"They need to integrate with the local culture, respect local rules, get familiar with their management ways, do good in local communities and strengthen corporate social responsibilities. Currently, many companies are still deficient in these aspects."