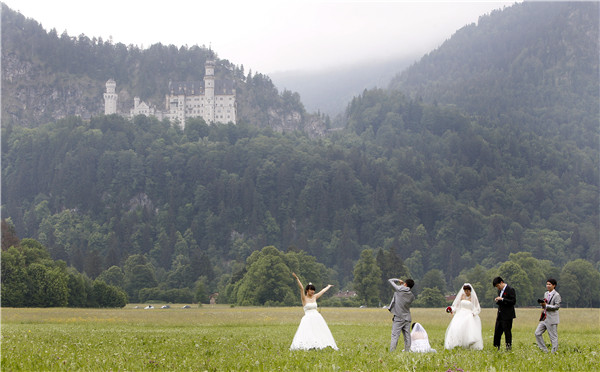 Chinese couples pose in front of the south Bavarian castle Neuschwanstein, in Schwangau, near Fuessen, Germany.[Photo/Agencies]
A niche market has developed for themed tours in China, as Chinese consumers enjoy increasing amounts of disposable income and leisure time.
Popular themes include wedding photography, visiting colleges, outdoor pursuits, and medical tourism, in addition to yoga, tea ceremonies and the arts.
In the next three years, the themed tour market is expected to maintain rapid growth and become a key economic driver in the tourism market. Sales could potentially break 10 billion yuan ($1.5 billion), according to a data projection by Tuniu Corp, a Nanjing-based online travel service provider.
Last year, Tuniu offered more than 100 different products for its photography themed tours with transaction volume increasing more than 100 percent quarter-on-quarter. The company recorded 3.2 million yuan in sales revenue in December just for a photography trip to Sanya, Hainan province, which served 500 new couples.
"Global photography tours have become a brand new tour style, and it is especially sought after by the younger generations, such as those who were born in the 1980s and 1990s. The wedding photography market has experienced a significant boom," said Wang Liangfen, chief director of themed tours at Tuniu.
Currently, the main consumers of themed tours are younger travelers that live in major cities with middle to high incomes, Wang said.
Du Ni, a 26-year-old white-collar worker in Beijing, said: "I think a photography themed tour sounds very interesting. In the future, I would like to take a wedding photography themed tour in Europe, as I'm attracted to the scenery there.
"I would prefer to visit some tourist attractions and go shopping too, in addition to the themed tour, otherwise it would be too simple," she said.
In January, Tuniu signed cooperation agreements with more than 200 themed tour providers, including Roman Holiday Wedding Photography Chain Group, San Fun Leisure Travel Network, and Tripolers, a travel agency that specializes in themed tours to the South and North poles.
"We will enhance the leadership position in the themed tour travel category by continuously innovating and introducing new themes, while expanding the product offerings of existing themes," Wang said.