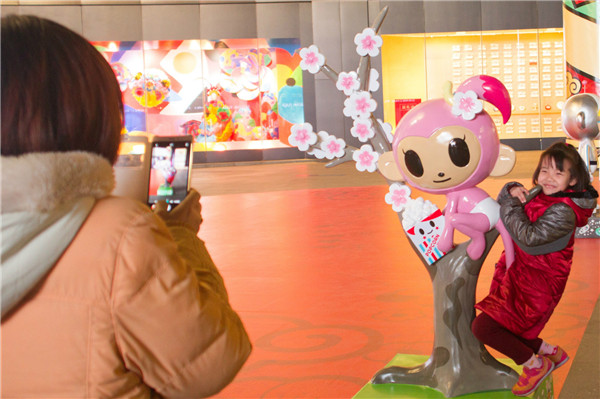 A child poses for a photo in front of a Lane Crawford franchise store decorated with Disney-themed pictures and statue in Shanghai. GAO ERQIANG/CHINA DAILY
Despite the chill on a windy, mid-winter Sunday in Shanghai, Zhu Yanzi, a 23-year-old woman from Shaoxing, Zhejiang province, took a two-hour train ride and then made an hour-long subway dash to reach the city's downtown Huanghai Road to "join the events" at department stores.
Such is the pull of these events at retailers that consumers from near and far feel compelled to troop in, and end up spending much more than they had initially planned.
Zhu, for one, planned a tightly-scheduled one-day trip to Shanghai with a budget of 500 yuan ($79.4) for travel tickets, dining and beverages. At the end of the day, however, the one-day Shanghai visit set her back by more than 1,000 yuan.
Thousands of shoppers who visit Shanghai will probably identify with Zhu. They are the targets of brick-and-mortal retailers who are renovating/upgrading their premises and holding thoughtfully conceptualized events at their stores.
The idea is to not only withstand the online shopping onslaught but thrive amid slowing GDP growth that is threatening to keep consumers tight-fisted, market researchers said.
Retailers' comeback efforts are somewhat akin to cinemas that weathered the threat from electronic and digital media by adopting similar strategies to offer moviegoers wholesome lifestyle "experiences".
So, these days, consumers visiting Shanghai retailers have much more than shopping on mind: they can enjoy art installations, exhibitions, painting shows, cartoon images, music performances or interactive programs. In other words, "experiences" await them, especially younger ones, something that online shopping doesn't offer. Yet.
These events find their audience, people such as Zhu, through online social networks and messaging apps such as WeChat.
During her Shanghai visit, Zhu first took pictures with Ali, a red fox cartoon image at Shanghai Times Square, and bought some mugs with Ali images.
Then, she went to Salvadore Dali at K11 Chi Art Space and bought fridge-door magnets and postcards. Next, she lined up for one hour in a queue to get into the flagship store of Japanese retailer Muji. She bought a pair of gloves. After that, she met friends at Joy City, visited an exhibition of UK-style installations, and polished off her visit with a hearty meal at a Hong Kong style restaurant.
"I spent more than I had expected ... on beverages, a pair of shoes on discount, and souvenirs (toys). I can't say I spent irrationally because the overall experience was quite different from ordinary shopping at department stores without these art events. But with these events around, you don't feel you are shopping but spending in an amusement park, like a kid. It was fun," said Zhu.
Carlby Xie Jingyu, director of research at Colliers China, said every store, mall and complex in Shanghai is trying to have its own distinct features and themes worth exploring.
"The retail market has been celebrating variety. Numerous overseas brands are entering China, bringing fresh experiences to niche-market consumers. At the same time, developers are attaching more importance to community experiences, in central locations, city outskirts and suburban areas. So much so, consumers now expect a variety of experiences inside shopping areas. For developers, such expectations are opportunities," said Xie.
More than 40 new retail properties are expected to come up this year in Shanghai. This will likely further intensify competition, said market insiders.
A report by DTZ Cushman & Wakefield said projects that offer a quality time to shoppers may stand out from others. Amid demographic change that is leading to more and more nuclear families, typically comprising a young couple with one or two children, shopping areas are aspiring to be weekend destinations.
These days, it is almost essential for a shopping mall to have a playground or an enrichment program center for children, in order to attract parents. Indoor activities such as handicraft lessons, music events and cooking workshops are popular with parents seeking to spend quality time with their kids, the report said.
Experts said new experiences require more than upgraded services, creative activities, novel products, new brands and attractive premises.
Kenith Kong, director and head of retail services with DTZ China, said it takes quality management - thorough research, thoughtful planning and effective execution - to deliver rich lifestyle experiences at shopping areas.
And to ensure consumers recognize such efforts is a challenge in itself. "Consumers may initially feel quite surprised finding a mini zoo inside a department store, but they will soon get bored if they find similar things at other stores. Operators, developers and investors need to think and innovate rather than just become a copycat," said Kong.