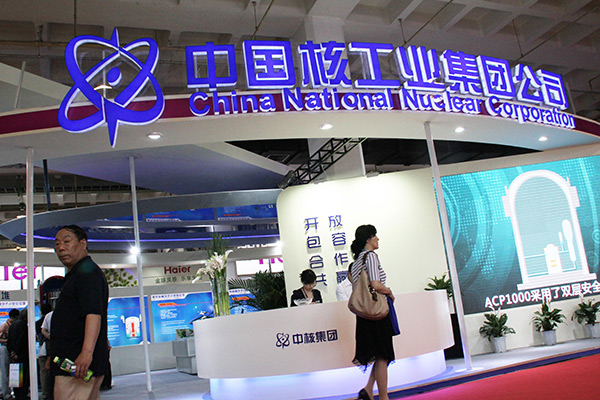 A China National Nuclear Corp stand at a high-tech expo in Beijing. [Photo/China Daily]
China is building two uranium processing plants in the north and south of the country to secure nuclear fuel supply amid a massive plan for nuclear power projects, officials at China National Nuclear Corp said on Friday.
The two plants will be built in Cangzhou in Hebei province and somewhere in Guangdong, where many reactors are based, Pan Jianming, the CNNC spokesman told reporters in Beijing.
"Everything is going smoothly in Cangzhou. We have already finished the preliminary work and are only waiting for government approval, but we are still deciding where to build the other plant in Guangdong," he said.
The moves come two years after the cancellation of a mega billion-dollar uranium processing project in Jiangmen of Guangdong due to local protests.
"We have learnt our lessons, so this time we will be very careful and prudent about such projects," Pan said.
The two processing plants are expected to provide a "one-stop" factory for uranium enrichment and fuel fabrication for reactors both domestic and abroad, experts said.
China, the world's largest energy consumer, is on the fast track to build more nuclear power plants as replacements for dirty coal-fired stations amid mounting pressure caused by air pollution and plans to leverage its experience to export nuclear reactors.
The country also plans to have 58 gigawatts of nuclear power in operation by 2020 and 30 gW under construction. To achieve that goal, analysts expect annual uranium demand will rise tenfold over the period to at least 40,000 tons.
The two biggest reactor builders - CNNC and China General Nuclear Power Corp have been purchasing uranium mines in Asia and Africa. CNNC is also exploring domestic uranium deposits and is building the first uranium production base with a capacity of over 1,000 tons in Xinjiang Uygur autonomous region.
At the same time the Chinese companies are developing indigenous technologies on manufacturing nuclear fuel assemblies, so if they are unable to enrich and process the ore, they can rely on foreign firms to fabricate the nuclear fuel.
To reduce the reliance, CNNC is currently developing CF series fuel, a kind of fuel assembly, which is expected to go into commercial operation by 2017.
Pan said the current production capacity of nuclear fuel assembly for pressurized water reactors, a major type of reactor used in many Chinese nuclear power plants, rose four-fold in 2015 compared to five years ago.
"Our capacity at the moment is able to reload the fuel assemblies of 30 nuclear units at the same time," he said, adding that CNNC is able to manufacture all kinds of fuel assemblies for domestic reactors.