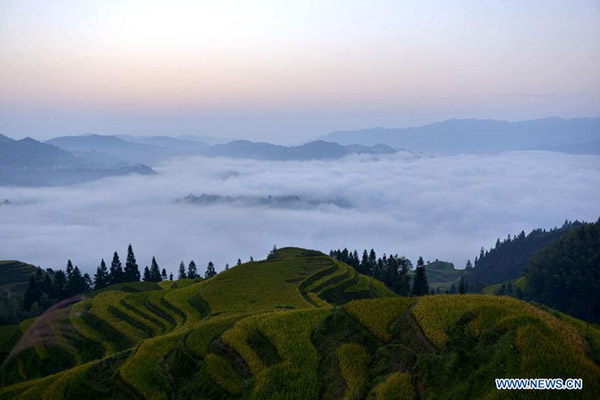 Photo taken on Sept 16, 2015 shows a view of the Yueliang Mountain in southwest China's Guizhou Province. [Photo/Xinhua]
Big data enterprises in Guizhou province say they expect benefit from the country's first local regulation for the budding industry, which urges governments to expand public data initiatives and offer more policy support.
The regulation, published by the southwestern province, will be implemented from March 1 and is designed to promote the development and application of big data in the inland province.
"As one of the country's first batch of companies focusing on healthcare big data, we have been cautious because there are no laws that tell us what we can and what we cannot do," said Huang Guohong, president of Guiyang Longmaster Information & Technology Co Ltd.
"The Guizhou regulation has set a direction for us by promising tax rebates, financial support as well as encouraging us to voice opinions on industry standards," Huang said.
The regulation lays out a framework for a wide range of big data related issues such as how to collect and store data, what types of data can be commercialized and how to protect users' privacy.
Du Hu, the co-founder of Baihe Finance, the subsidiary of matchmaking website Baihe Network Co Ltd, said the company has accumulated a huge amount of information since it started operations 11 years ago, but the bulk of it is lying idle in the company's computers.
"The regulation will accelerate the application of our data. It says clearly that local governments should encourage enterprises to sell and buy data through legal channels," Du said, adding the company will take strict measures to protect users' private information while engaging in big data deals.