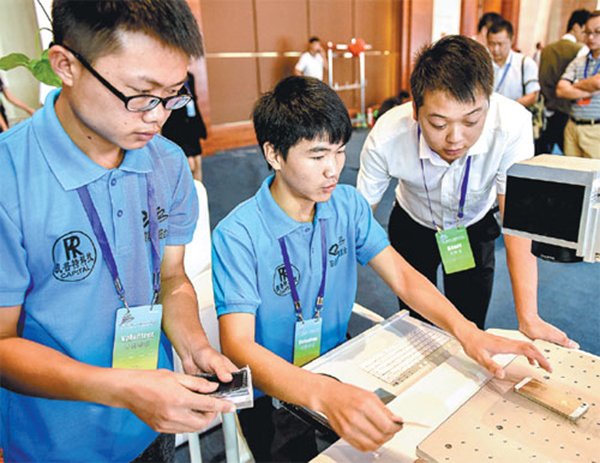 Students from a vocational school operate numerical control equipment at an exhibition that features educational exchanges between China and ASEAN member countries in Guiyang, Guizhou province, in August, 2015. [Photo/Xinhua]
Guiyang, the capital of Guizhou province, on Friday opened the doors to China's first laboratory that will evaluate the asset value of big data.
The laboratory has been set up by the Guiyang municipal government, China National Institute of Standardization, Data Science Research Institute of Tsinghua University, 3 Golden Beijing Technologies Co Ltd and Deloitte Touche Tohmatsu Ltd. The laboratory will assess the data assets of enterprises to unlock more value, said sources.
Guiyang will be built into a model in terms of big data practice, application and standardization construction by relying on advantages of the five parties in national standard setting, core algorithm of big data, talent reserves and enterprise assets evaluation.
The five parties signed a cooperation agreement in November 2015 in Beijing to set up a big data resource base in Guiyang.
On Friday, the first nationwide big data alliance for innovation in the financial industry was set up in the city.
Yang Huisheng, the executive secretary of the alliance, said: "Our goal is to participate and promote the formulation of national and industrial standards through the standardized construction of big data.
"The current data resources still have some problems, for instance, the degree of standardization, accuracy, completeness and utility value is low, which greatly reduces the value of data," said Yang.
He said that the alliance will carry out the theory and practical research of big data financial innovation, analyze and develop information and data through utilizing the technology of mobile Internet, Internet of Things and cloud computing.
It will also put forward suggestions for enterprises' innovation and acceleration of technological advancement and industrial upgrading, and provide nationwide guidance and services for financial technology.
Du Hu, the co-founder of Baihe Finance, the subsidiary of matchmaking websites Baihe Network Co Ltd, said: "As an Internet enterprise, we have abundant data and hope to find partners to plan and organize our data on the platform, and help us in finance services."
Fan Xiaoxin, the chairman and president of 3 Golden Beijing Technologies, who is also the director of the alliance, said the alliance will play a great role in promoting the development of big data finance.