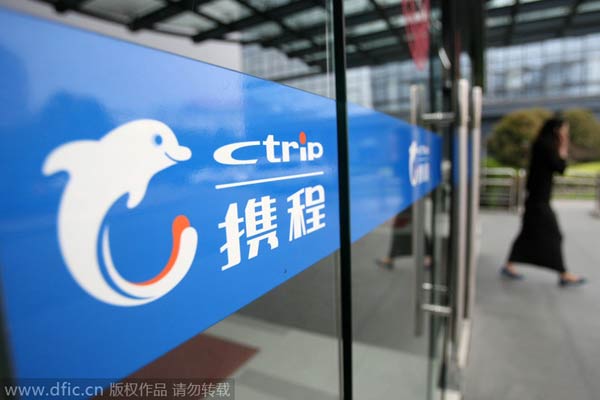 A Chinese employee leaves the office building of Chinese online travel agency Ctrip in Shanghai, Mar 26, 2014.[Photo/IC] 
Online travel major sets sights on burgeoning Indian tourism market
Ctrip.com International Ltd, China's largest online travel agency, is investing $180 million for a quarter share in its Indian counterpart MakeMyTrip Ltd.
The Chinese firm is likely to own up to 26.6 percent of MakeMyTrip, giving it the right to appoint a director to the Indian company's board.
"Through this transaction, Ctrip will gain exposure to India's fast-growing online travel market, and as one of the world's main emerging markets, it has great potential," Liang Jianzhang, Ctrip's co-founder, chairman, and CEO, said on Friday.
He said the investment, being paid for via convertible bonds, will mean more opportunities for Chinese citizens to visit India, which is considered one of Ctrip's strongest future markets.
Established in 2000 and listed on Nasdaq in 2010, MakeMyTrip has a 15 percent share of India's air ticket booking market.
Deep Kalra, its founder and CEO, said: "There are many similarities in the Indian and Chinese online travel markets, and we expect this strategic relationship between two market leaders to be mutually beneficial."
Analysts said the deal appears especially beneficial to the smaller MakeMyTrip.
Its share price on Nasdaq soared 23.57 percent to $20.29 on Thursday, while Ctrip lost 5.51 percent to close at $45.25.
Wei Changren, general manager of tourism industry consultancy CTCNN com Inc, said the investment means the two companies will now work very closely together.
As a major shareholder, Ctrip would also gain financially from Indian firm's strong growth, he said.
Statistics from PhoCusWright, a United States-based travel market research firm, show India's overall tourism market grew 10 percent last year, and its online travel market 16 percent.
Last year, Ctrip spent $100 million to become the controlling shareholder of Travelfusion Ltd, a London-based low-cost aviation distribution platform.
The company has already invested in Tourforfun.com in the US, and Kaytrip GmbH in Germany, both of which cater especially to Chinese travelers.
Liang said earlier that Ctrip will continue its efforts at building its network in popular destinations for Chinese tourists, but only in cooperating with local partners.