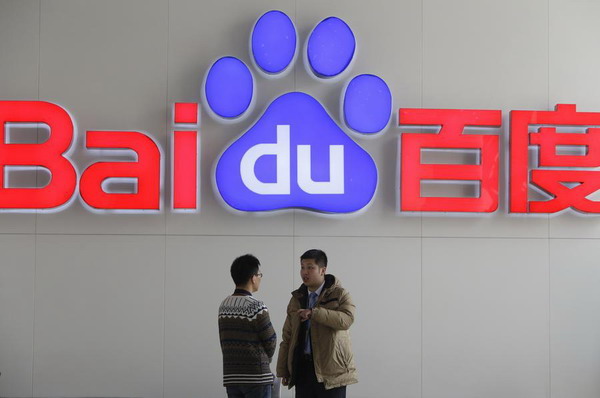 People talk in front of Baidu Inc, which operates China's most popular Internet search engine, in Beijing.[File Photo]
As many as 36 non-government organizations have requested the Beijing industry and commerce authority to look into Baidu Inc's allegedly false advertising practice.
The healthcare related NGOs together filed a complaint on Thursday to the Beijing Administration of Industry and Commerce against China's online search giant Baidu.
They accused the Beijing-based Baidu of posting false medial related advice and asked the Beijing authority to launch an investigation.
Baidu said in a statement on Thursday that all medical institutions that carry out online marketing via the online search giant need to be equipped with licenses and Baidu welcomes the supervision from the public.
The New York listed Baidu came under media scrutiny after an Internet user accused the online search giant of selling its medical-related forums on Tieba, its online community-based group discussion service, for commercial activities.
A forum for hemophilia patients, for example, has been used by 5,000 users as a platform to discuss and share information about the disease and its treatments.
But by selling the forum to some unqualified medical agencies, Baidu has allowed it to be flooded with advertisements, some of them misleading.
Baidu announced on Tuesday it will stop the commercialization of forums that focus on discussing the diagnoses and treatments of illnesses and invite non-profit organizations to operate them.