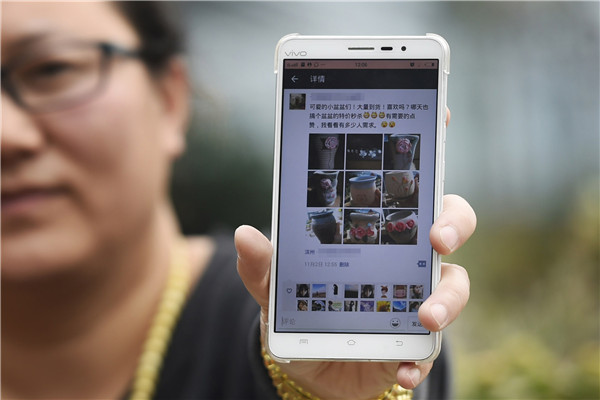 An advertisement for flower pots on Tencent Holdings Ltd's WeChat. Chinese companies are setting up official accounts on various platforms in the hope of selling their products and solutions to ordinary consumers.DONG NAIDE/CHINA DAILY
Last summer, Shanghai was constantly blighted by pouring rain, blocking some parts of the city. A taxi-hailing company came up with advertisements on social media applications which claimed that consumers could book boats from them. There were even pictures showing the locations of the available boats. However, this was nothing more than a practical joke.
Some may say that this was witty and funny. But for others, it was simply taking advantage of people's inconvenience and trouble, especially for those who were stranded due to the heavy rain.
Instead of these firms poking fun at the trouble they were having, they would have much preferred them to offer something substantial to get them out of the jam.
This is just one example of a company launching a marketing campaign on the back of people's inconvenience or misery.
There are more examples of such unpleasant and cheap commercials, like the most frequently seen cases of belittling competitors' products by picking out their flaws in exaggerated ways in order to build up their own images.
Even industry leaders cannot avoid falling into this trap. The recent conflict between JD.com Inc and Alibaba Group Holding Ltd was another fine example.
A quick look at the 2016 China Salary Guide recently released by global employment advisor group Morgan McKinley shows that the key words describing the hiring trend for industries such as finance, human resources or accounting, are mostly replacement and shift, but when it comes to marketing, the words used are "substantial job creation".
Well, it should come as no surprise. Going through the Moments on WeChat, one can easily find plenty of accounts which post "in-depth essays" which turn out to be nothing more than exercises in pure marketing. Marketing is no longer what B2C companies stress or excel at, B2B companies are quickly catching up, setting up official accounts on various platforms in the hope of selling their products and solutions which are not easily comprehensible to ordinary consumers.
Being instantly responsive is not the responsibility of news reporters, it is also the job of the marketing specialists who are required to respond to every possible news issue so that they can hype up the company's image and sell more of their complicated products or solutions.
It is somehow incomprehensible and a little bit sad to see that the ways of marketing have not changed much up till now even though technology has advanced by leaps and bounds.
Technology has made marketing so easy these days that marketing specialists only care about launching as many campaigns as possible with easily accessible technologies and rapidly spreading speed instead of really thinking through what is best for the consumers and what can best suit the company's image.
The even more pathetic thing is that people often find they come to a commercial at the end of a piece of long text when you expect to get something substantial the moment you click open the story on your phone. A large number of highly celebrated online writers who used to provide solid pieces of insight and stories have now becoming nothing more than hired hacks publishing commercials on their own social network accounts.
People talk about and resort to marketing so frequently nowadays with the easily accessible technologies that the production process has turned upside down. Too much emphasis has been attached to marketing campaigns, holding large news conferences in huge venues, rather than dedicatedly working in laboratories and talking to consumers to come up with a substantial product.
For companies which have attracted rounds of financing, it is an irresponsible choice to spend too much on marketing rather than research and development.
Of course it is totally legitimate for companies to launch advertising and marketing campaigns. In some sense, it is a must. But the prerequisite and the most important thing is to come out with a product that can both delight the consumers and make the company proud of it.
Contact the writer at shijing@chinadaily.com.cn