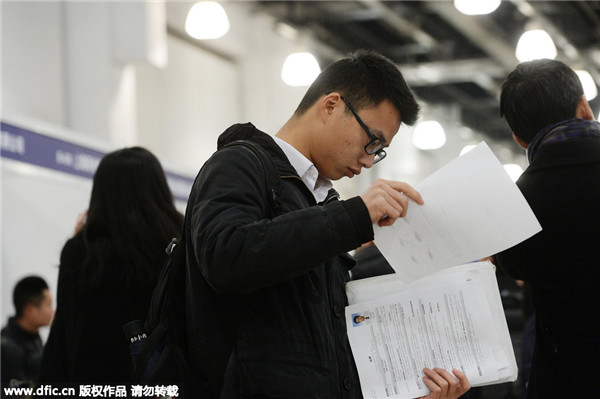 A man sorts his resume at a job fair in Shanghai on Jan 9, 2016. [Photo/IC]
Despite the uncertain economic climate, Chinese mainland employers are still more generous than their global peers when it comes to salaries, a new study said.
According to the Salary Guide released by global specialist recruiting group Hays Plc on Tuesday, about 44 percent of the 1,200 mainland employers said they would offer salary hikes of 6 percent to 10 percent this year. About 29 percent said they plan to hike wages by 3 percent to 6 percent, while nearly 16 percent intend to give salary increases in excess of 10 percent.
But on the other hand, most of the employers from Japan, Malaysia and Singapore said they will only offer salary increases in the range of 3 percent to 6 percent.
However, most of the Chinese mainland employers have reduced their salary budgets this year. During the same study period in 2015, more than 54 percent of the employers said they would increase the employees' salary by 6 percent to 10 percent, which was 10 basis points higher than that of this year.
"We will see some tension this year between employers taking a cautious approach to salaries to help navigate economic conditions in the region more generally and candidates hungry for advancement," said Christine Wright, managing director of Hays in Asia.
China's services sector has enjoyed increasing levels of business from international banks focused on cost saving and process efficiency improvements. This is particularly true for "anti-money laundering" and "know your client" roles after the introduction of a new wave of penalties for non-compliance. Candidates in these disciplines are expected to remain in short supply with salaries tipped to rise by 8 percent to 10 percent this year.
Simon Lance, managing director of Hays China, said: "Professionals in these two roles who are probably seeing salary increases in the next 12 months are not necessarily those in senior or executive positions. The central government is tightening its regulations, especially regarding due diligence."
Similarly, within the accountancy and finance sector, compliance candidates are among those in highest demand and the salaries being offered to the leading four auditors such as Deloitte Touche Tohmatsu Ltd, internal controllers and legal professionals are on the rise.
Regarding the robust growth in the Chinese information technology sector, professionals with expertise in this area are likely to see strong salary increase in the next 12 months. Throughout 2015, IT professionals saw their salary increase by 15 to 20 percent on average, said Edmond Pang, business director of Hays China.
"We are seeing a preference for working in local IT companies. Chief information officers working in multinational corporations are actively looking for opportunities with local Internet ventures, especially with the three biggest players, Baidu Inc, Alibaba Group Holding Ltd and Tencent Holdings Ltd," said Pang.