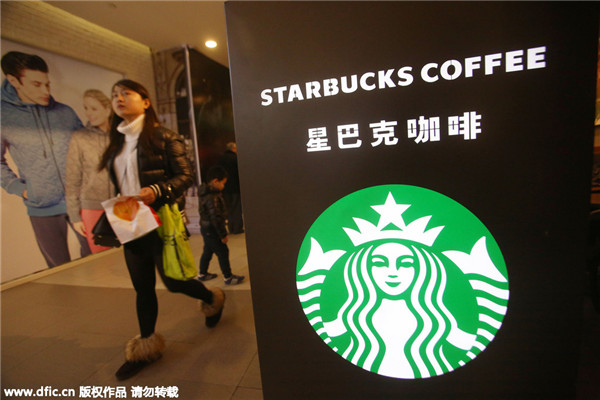 Pedestrians walk past a cafe of Starbucks Coffee in Shanghai on Dec 8, 2015. [Photo/IC] 
Starbucks Corp, the Seattle-based coffee giant, said it plans to add 500 stores in China every year for the next five years, as the company remains upbeat on the world's second-largest economy.
"We have confidence in the future of the Chinese economy, despite all the rhetoric, noise and issues," The Wall Street Journal quoted Howard Schultz, Starbucks's chief executive, as saying.
"People are looking for reasons not to believe. I'm on the ground and I see firsthand. I am bullish," said Schultz, who is visiting China this week, in an interview with the newspaper.
Starbucks, which is now running about 2,000 stores in the Chinese market, continues to raise its bet on local customers' taste for coffee, as more and more tea drinkers develop a taste for that other caffeinated beverage.
Its fourth-quarter revenue for the China and Asia-Pacific region more than doubled from a year earlier, to $652.2 million. Same-store sales in the region grew 6 percent, trailing the 8 percent global increase, said the newspaper.
Starbucks didn't break out its China sales, but said he expects the country to become Starbucks' largest market.
The company operates more than 23,000 stores world-wide, including roughly 7,000 in the US. Starbucks' Americas market, which includes Brazil, Canada, Puerto Rico and the US, accounted for 14,800 stores in 2015, according to the newspaper.