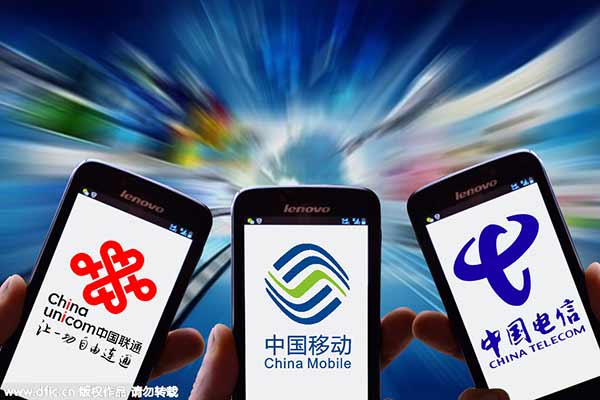 Chinese mobile phone users show logos of (from left) China Unicom, China Mobile and China Telecom on their smartphones in Shaoyang city, Central China's Hunan province, March 19 2015. [Photo/IC]
China Telecom and China Unicom signed a compressive partnership deal on Wednesday, marking the two companies'latest joint efforts to take on China Mobile.
The two companies said they will deepen their cooperation in 4G network construction, smartphone technology standardization, customer services, innovation business as well as overseas roaming services.
Yang Jie, general manager of China Telecom, said the deal will also involve capital cooperation, but did not offer more details, adding it had nothing to do with the merger of the two companies.
Related story: China to have 600 million 4G users by 2016 by Gao Yuan, China Daily
The country is poised to have 380 million 4G users by the end of 2015, according to the Ministry of Industry and Information Technology.
Expending the 4G service will be a top task for telecom industry as the country is trying to increase connection speed while bringing down data traffic fees, the ministry said.
China is already the world's biggest telecom country, with the biggest user number and the largest infrastructure.
China Mobile Ltd, the No 1 carrier by user number, will be a major driver of China's 4G initiative. The State-owned enterprise is looking to double its 4G user population in 2016, to 500 million.
A report from industry research firm IDC estimated close to 90 percent of the mobile phones shipped in the last two quarters in China are comparable with the 4G technology.