China Telecom expands reach with data center
After laying a solid foundation for its information storage business on the West Coast of the US, China Telecom Americas (CTA) has enhanced its capacity on the East Coast by launching a new data center in Sterling, Virginia.
"The data center on the East Coast can serve as a really important hub," said Joe Han, president of CTA, at the new facility on Thursday.
"It can connect us through our continental backbone to the West Coast, and at the same time connect us with Europe and Latin America," Han said.
CTA is partnering with Cyrusone, one of the top-three data center services providers in the US, to offer clients its fifth data center, after three in Silicon Valley and one in Los Angeles.
"We look forward to supporting China Telecom's efforts to extend its global IT infrastructure to assist its customers," said Scott Brueggman, chief marketing officer of CyrusOne.
According to Brueggman, the facility has 75,000 square feet of co-location space, can handle 12 megawatts of power and has plenty space to expand.
Tian Deyou, minister counselor from the Chinese Embassy for economic and commercial affairs, attended the event. He helped launch CTA's first data center in Santa Clara, California.
"I hope Chinese companies in the US and American companies that have business in China can make good use of this data center," said Tian. "Together I think we can make the business of the two great countries even closer."
Han described the data center as "a telecom hotel", which provides a stopover to transfer clients' data and information. Han said CTA has unique advantage because it creates a network enabling clients to visit other information hubs.
"Chinese investment is definitely getting bigger on the East Coast, including the New Jersey region, as well as other regions in Virginia, Georgia and North Carolina," said Han.
"It's great to see China Telecom and CyrusOne build up its partnership and expand their business here," said Mike Lehmkuhler, vice-president of the Virginia Economic Development Partnership.
Pan Jialiang in Washington contributed to this story.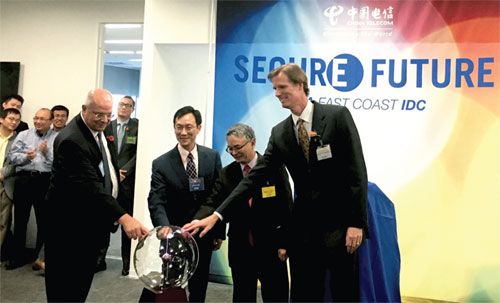 Joe Han (second from left), president of China Telecom Americas (CTA), launches the company's first data center on the US East Coast, along with Mike Lehmkuhler (left), vice-president of the Virginia Economic Development Partnership, Tian Deyou (second from right), minister counselor from the Chinese Embassy, and Scott Brueggman, chief marketing officer of CyrusOne, which hosts CTA's data center in its facility, on Thursday in Sterling, Virginia. Kan Xiao / for China Daily