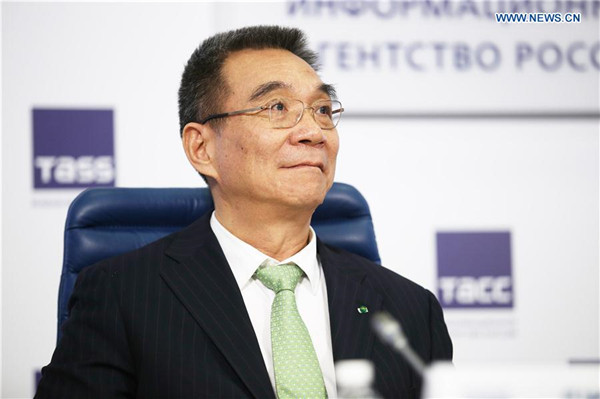 Former World Bank chief economist Justin Yifu Lin attends a press-conference on the eve of Gaidar economic forum in Moscow, Russia, Jan 12, 2016. [Photo/Xinhua]
MOSCOW -- China will continue to be a driver of global economy as it has sufficient investment opportunities and internal resources, a leading Chinese economist said Tuesday.
"China will continue to grow economically and continue to be the main driver of global economic growth," Justin Yifu Lin, founding director of the China Center for Economic Research and honorary professor of Peking University, told a press conference in Moscow.
Lin downplayed speculations about negative prospects of the Chinese economy, which showed slower growth rate in 2015 than in previous years.
"Some people predict the coming collapse of the Chinese economy. I think they do not understand the essence of the Chinese economy," he said. "In spite of concerns about the Chinese economy, the targets, as you can see, have been achieved."
The Chinese economy is expected to grow 7 percent in 2015, in line with the anticipated growth target, according to official estimates.
Lin said both inflation (2.5 percent) and unemployment (4 percent) in 2015 were kept within government targets.
He added that the Chinese economy constituted around 14 percent of the global economy last year, and that it contributed about one-third of the global growth. "This means China continued to be the driver of the global growth."
In his opinion, an 8 percent annual growth in China's internal consumption had made the 7-percent GDP growth possible.
Looking into 2016, Lin predicted that China's export growth will be subdued and economic growth will be achieved by cultivating internal resources.
However, he noted that China has good prospects to maintain a moderately high growth rate as it has many good investment opportunities.
The economist believed that options in Beijing's toolkit include upgrading its inventories to even more advanced levels, improving its infrastructure, environmental protection and urbanization, all of which are investment opportunities that can provide good returns both economically and socially.
In addition, he said the country also has plenty of resources to invest in, highlighting the country's foreign reserves that amounts to 3.4 trillion U.S. dollars.
As to China's relations with Russia, Lin said the two countries have good prospects for cooperation.
"If you look into the economic structure of China and Russia, you will see that both countries are highly complimentary to each other. I believe that such strategic partnership will be beneficial for both sides."
One of the areas of cooperation could be agriculture, as China has limited amount of arable land but aging rural population, forcing it to increase imports of agricultural commodities.
"Potentially you (Russia) can be one of the largest sources of agricultural imports to China. It is a win-win situation for both China and Russia," he said.
Lin also praised Russia's willingness to participate in the China-proposed Belt and Road Initiative -- the Silk Road Economic Belt and the 21st Century Maritime Silk Road envisaging the linking of development strategies of countries in Asia, Europe and Africa.
Lin said the initiative will improve infrastructure, attract investment, create new jobs, raise incomes, productivity and the overall living standards of people living and working in the countries involved.