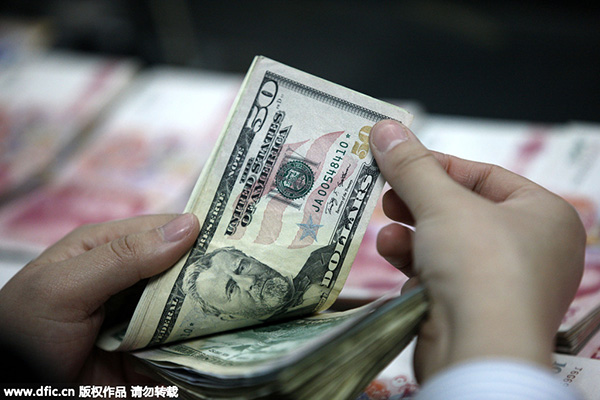 A Chinese clerk counts US dollar and renminbi banknotes at a bank in Huaibei city, East China's Anhui province, Jan 22, 2015. [Photo/IC]
China's foreign exchange reserves, the world's largest, fell by $87.2 billion in November to $3.44 trillion, central bank data showed on Monday, the lowest level since February 2013 and the third largest monthly drop on record.
The onshore yuan is down over 3 percent so far this year, and remains under pressure as investors expect US interest rates to be increased for the first time in around a decade later this month.
The fall in foreign exchange reserves was the biggest since a record monthly drop of $93.9 billion in August. China's FX reserves have declined for the last five quarters and posted a record quarterly fall in the third quarter.
"The pick-up in capital outflows appears to have been predominately driven by increased expectations for renminbi (yuan) depreciation," Julian Evans-Pritchard at Capital Economics said in a note.
"A rise in offshore interest rates due to the increased likelihood of a December Fed rate hike will also have added to outflow pressures."
"The fall in November was larger than expected, which indicates that China's use of forex reserves had exceeded expectations," Liu Ruidong, analyst from Merrill Lynch, said on Sina Weibo.
China's surprise devaluation of the yuan on Aug 11 fueled a wave of capital outflows on fears the world's second-largest economy might be slowing more sharply than thought, and on worries of a possible interest rate rise by the US Federal Reserve.
The yuan's depreciation has been even more marked in the offshore maket, where it has lost over 4 percent this year.
Trading at 6.47 per yuan dollar, the offshore rate is at its widest discount to the onshore closing rate since September, indicating enduring bearishness.
The value of China's gold reserves stood at $59.52 billion at the end of November, down from $63.26 billion at the end of October, the People's Bank of China (PBOC) said on its website.
China's International Monetary Fund (IMF) reserve position was at $4.60 billion, down from $4.64 billion the previous month. It held $10.18 billion of IMF Special Drawing Rights at the end of last month, compared with $10.36 billion at the end of October.
The central bank in July shifted to reporting its foreign exchange reserves on a monthly basis after adopting the IMF's Special Data Dissemination Standard (SDDS). The bank had previously released the data on a quarterly basis.
On Nov 30, the IMF admitted China's yuan into its benchmark currency basket, in a victory for Beijing's campaign for recognition as a global economic power, and the PBOC's vice governor Yi Gang said he expected the inclusion would make the yuan more stable.
Fuelled by exports, forex reserves grew for more than a decade before beginning their decline in the third quarter of 2014. In the third quarter of 2015, forex reserves fell by $180 billion, much more than the $40 billion decrease in the second quarter, a fifth consecutive quarterly drop.
Looking to future, China's investments abroad, rather than capital back flow, will be enhanced, wrote a professional investor with the screen name "Ji Xi Ban Ruo" on a microblog post on Weibo.